Samsung is all set to unveil the Galaxy S10 flagship series but we're awaiting the launch of its "other" flagship that we know as the Galaxy Foldable smartphone. The Galaxy F or Galaxy Foldable smartphone has also been hinted to launch during the same event on February 20 and Samsung has now started showcasing promotional content on the same, just weeks ahead of the launch.
The video appears to have been released for a closed audience which was present during the CES 2019 event in Las Vegas but has since taken off off Samsung's official YouTube channel. However, the video had been downloaded and re-uploaded again by several users and is currently available on the video streaming platform.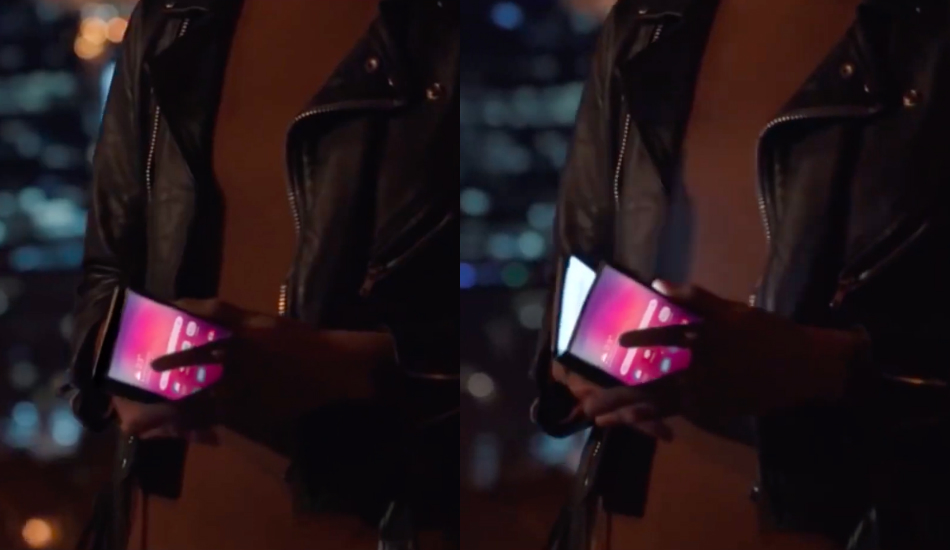 From the video, it's quite convincing that the Samsung Galaxy F will equip an outward folding architecture with a cover display on the outside which will open up to a larger tablet-like screen on the inside. The video gives us a sneak peek into the book-like nature of the smartphone whose front-facing outer panel looks close to bezel-less.
From what we know till now, the Galaxy F foldable smartphone will feature a smaller 4.9-inch display with a 1960 x 840-pixel resolution on the outside. The cover will open to a much larger 7.3-inch screen which will have a resolution of 2152 x 1536 pixels, 420 ppi and an aspect ratio of 4.2:3. The device is expected to be powered by the same Snapdragon 855 / Exynos 9820 as that of the Galaxy S10 with onboard storage of up to 1TB. In terms of optics, the Galaxy F will feature dual rear cameras that combine a 12-megapixel sensor and 8-megapixel lens.
The latest development comes just two weeks after the South Korean company had placed two billboards in and around the Place de la Concorde historical centre in Paris. The billboards carried the message "The future unfolds" and "February twentieth" which is translated from Hangeul. It's already estimated that the device will come at a steep starting price of 2 million won or should we say an upwards of Rs 1,30,000. At that price tag, the foldable smartphone will be the costliest consumer-level smartphone in the world.