When Apple launched the iPhone X, there was no doubt that the flagship smartphone will go on to occupy a large percent of the market in the months to follow. A little over three quarters of the year, the iPhone X has finally been beaten to the race and it's the Galaxy S9 lineup which has gained more market share than Apple in its second month.
The Apple flagship now finds itself in the third position following Samsung's Galaxy S9 Plus and Galaxy S9 which took the number 1 and 2 spots respectively. The Galaxy S9 lineup thus managed to get a hold of 2.6 percent of the global market share with a decent streak of sales in North America and Asia-Pacific. Samsung's success wasn't just limited to this year's Galaxy S9 as its last year flagship Galaxy S8 made its way to the top 10 best selling smartphones. The reason for the success rate of the still so popular Galaxy S8 device as Counterpoint says is due to reduce in price and increased discounts.
While the iPhone X might have been overthrown, Apple still dominates the top 10 list as the iPhone 8 and iPhone 8 Plus took the position of 4th and 5th positions in the chart following the iPhone X at 3rd. While the Galaxy S9 lineup tasted a sweet 2.6 percent of the market share each, the iPhone X, iPhone 8 and iPhone 8 Plus have captured as much as 2.3 percent of the market each. For Apple, it continued to receive good news as even its older iPhone 6 and iPhone 7 line made it to the list occupying the 7th and 9th position respectively.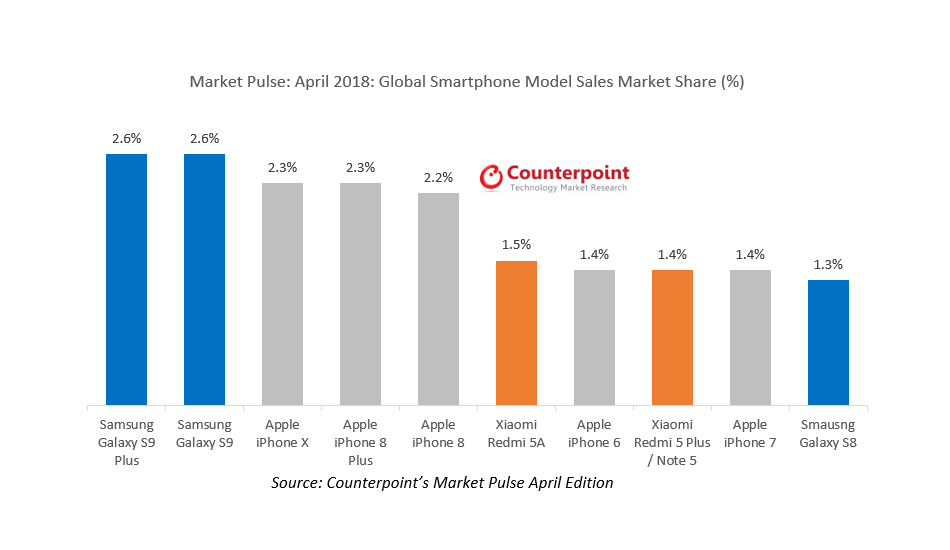 This year also saw the first time Xiaomi took two positions in the top 10 chart which is evident through its sales in India and China. The Chinese manufacturer had its Redmi 5A and Redmi Note 5 that sold the most during the month of April grabbing 1.5 percent and 1.4 percent of the global market share.
That being said, Xiaomi will be looking to sell its Mi 8 flagship in the coming months and might as well do so with the amount of resemblance it has with the iPhone X. For Apple, its sales are likely to be strong and will look to dominate the market. While Samsung's Galaxy S9 lineup will continue to rise in terms of sale, the company will also be wary of selling its next flagship which will be the Galaxy Note 9.