Samsung's heavily anticipated smartphone- Galaxy S III or S3's images have been leaked on a press invite issued by the company for an event on May 22 in the UK where it is expected to unveil the handset.
A Korean News website displayed the invite for the Samsung Galaxy S III launch event which also teased with a glimpse of Samsung Galaxy S III device. Usually, these invites carry the modified/promotional image of the product. The actual product may vary from the image.
Galaxy S III is the company's flagship device and it is no secret that the company plans to launch it on May 22. The Galaxy S III is expected to come with next generation display and slim design.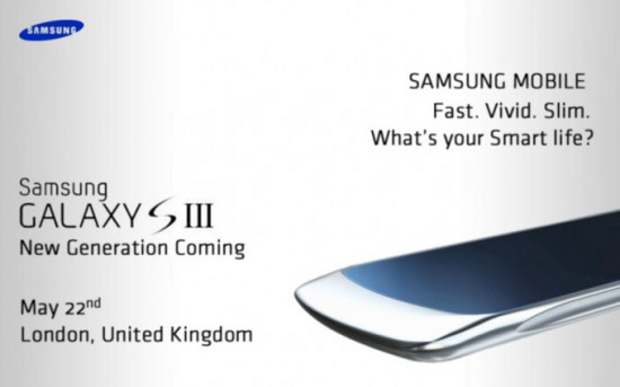 The Galaxy S III will come with a new quad-core mobile processor and a 720p HD screen resolution supporting display. The invite states that the phone will be fast and slim. Clearly the speculated specifications support those words on the invite. Not to forget that the Galaxy S III is expected to come with Android 4.0 Ice Cream Sandwich with TouchWiz 4.0 UI and Live Panels UX.
Several device renders and mock up images have been circulating over the web. As of now, it is difficult to point out the real one. Considering that the invite is officially issued from Samsung, the device teased in it can be taken for the Galaxy S III. The report also states that the company will also introduce 4G LTE supporting Samsung Galaxy S III but might be made available only in select regions.
Samsung Galaxy S III is expected to compete with Apple iPhone 4S, HTC One series and the new Sony Xperia 2012 series smartphones.