Samsung has recently announced the Galaxy Note 3 Neo for Rs 40,990. The phone's pricing makes it quite interesting: it falls between the Note II and Note 3 smartphones which are now available for about Rs 30,000 and Rs 45,000 respectively.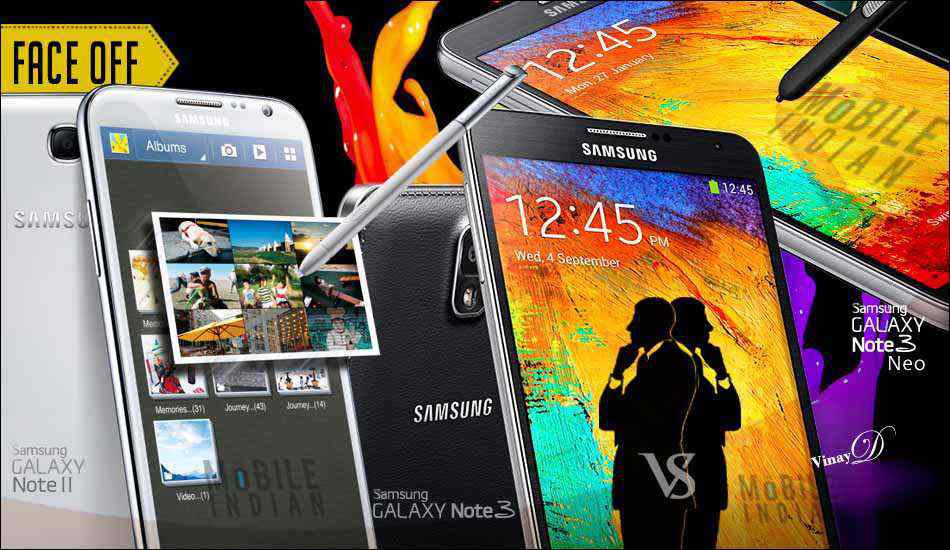 So what's new in Note 3 Neo? We have thus compared the Note 3 Neo with the other two on the basis of their features to see the difference.
Design and Display
The Note 3 is the slimmest of the trio with only 8.3 mm thickness while Note 2 is the thickest with 9.4 mm thickness. Ironically, Note 3 Neo falls in between the two with 8.6 mm. In terms of height and width, the Note 3 (151.2 x 79.2 mm) and Note 2 (151.1 x 80.5 mm) are almost similar. The new Note 3 Neo is the smallest of the three, with a height of 148.4 mm and width of 77.4 mm.
As quite obvious from the dimensions itself, the Note 3 Neo is lighter than the two with 162.5 grams while Note 3 weighs 168 grams and Note 2 weighs 183 grams.
Both the Galaxy Note II and Note 3 Neo come with 5.5 inch Super AMOLED display and even with the same 1280×720 pixels resolution. The Samsung Galaxy Note 3, justifying its price tag, comes with a bit higher 5.7 inch display with full HD (1920×1080 pixels) resolution. The Note 3's display has also the protection of Corning Gorilla Glass 3 while the other two do not have the luxury that gives protection from scratches.
Memory
The Note 3 octa core version, which is available in India, comes with 32 GB internal storage and 64 GB expandable storage slot. It has also huge 3 GB RAM. On the other hand, in India, the Note 2 is available only in 16 GB internal storage variant which comes with 2 GB RAM and 64 GB micro SD card slot. Note 3 Neo too comes with 16 GB ROM, 2 GB RAM, and 64 GB micro SD card slot.
OS and Processor
In India, only the Exynos 5 Octa 5420 octa core processor based Note 3 is available. This octa core is a combination of a quad-core 1.9 GHz Cortex-A15 chipset and a quad-core 1.3 GHz Cortex-A7 chipset. While Adreno 330 is there to take care of graphics requirements. It currently is based on Android 4.3 Jelly Bean operating system but Samsung has already rolled out the Android 4.4 KitKat version for it. As far as its performance is concerned, the phone manages multi-tasking involving high end games with ease (we highlighted the same during its review; to read it click here.
The Note II has the 1.6 GHz Exynos 4412 quad-core processor which is backed up by Mali-400MP GPU. It too has been upgraded to Android 4.4. KitKat. The Android 4.3 Jelly Bean based Note 3 Neo has a hexa core Exynos 5260 processor which consists of quad-core 1.3 GHz Cortex A7 and a dual-core 1.7 GHz Cortex A15 chipset. It has the Mali-T624 GPU.
As obvious, the Note 3 is better equipped than the Note 3 Neo which on the other hand will do better than the Note II.
###PAGE###
Camera
Samsung Galaxy Note 3 comes with a 13 megapixel auto focus rear camera and a 2 megapixel front camera. There is an LED flash in the rear panel to help the primary camera. The rear camera is able to capture full HD resolution videos at 30 frames per second. To check the samples and to know more about Note3's camera, click here.
We had earlier also reviewed the Note II which comes with an 8 megapixel auto focus rear camera, flanked by an LED flash, and a 1.9 megapixel front camera. Its rear camera too can capture full HD videos. To know more about the Note II's imaging capability, click here.
The new Samsung Galaxy Note 3 Neo too has an 8 megapixel auto focus rear camera, which is capable of capturing full HD videos. It has also an LED flash and a 2 megapixel camera.
From the specifications, the Note II and Note 3 Neo do seem quite close, atleast on paper.
Battery
Note 3 has a 3200 mAh battery, which claims to provide 21 hours of talktime and 420 hours of standby on 3G network. The Samsung Galaxy Note II comes with a 3100 mAh battery which claims to provide 16 hours of talktime and up to 890 hours of standby on 3G network. The Note 3 Neo too comes with a 3100 mAh battery but information about its output is not known right now.
Connectivity and Other factors
All the devices come with stylus which is the USP of Note series devices. Besides, they all have the same TouchWhiz user interface. The Note II might have few missing elements than Note 3 and Note 3 Neo but after being upgraded to Android 4.4, we guess Samsung will also arm it with the same UI as the Note 3 Neo has now.
The three handsets look identical as well when it comes to connectivity as all of them have WiFi, WiFi Direct, WiFi Hotspot, Bluetooth 4.0, micro USB 2.0, and NFC. MHL (TV output) is present in Note 3 and Note II but at this point of time it is not clear whether Note 3 Neo has it or not (expectedly its micro USB 2.0 port also acts as a MHL port).
Conclusion
As specifications suggests, Samsung has wisely introduced the Note 3 Neo which seems better than Note II but falls short of Note 3 in many departments. Its price, Rs 40,990, though puts it perilously close to Note 3 than Note II which will definitely put the buyer into confusion. We will try to review the new Samsung Galaxy Note 3 Neo as soon as possible to discover the truth till then keep checking The Mobile Indian.