Samsung on Wednesday announced its first dual SIM smartphones in the Indian market – the Galaxy Ace Duos (SCH-i589), Galaxy Y Pro Duos (GT B5512) and Galaxy Y Duos (GT-S6102). The company also strengthened its feature dual SIM portfolio with the new Samsung Champ Deluxe Duos (C3312) and Star 3 Duos (GT-S5222).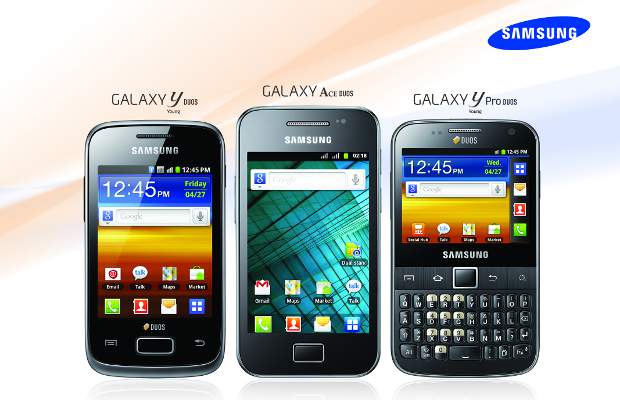 "We are very proud and delighted to announce the launch of these innovative hybrid mobile devices. These devices combine the effectiveness of all the smartphone features and at the same time give consumers a unique opportunity to maintain their work life balance. With the increasing demand for being connected 24×7 and yet maintaining a personal life balance, these innovative dual SIM smartphones enable the mobile consumers to be socially networked through their phones anytime, anywhere, and at the same time separate their personal life from their professional life," said Ranjit Yadav, country head of mobile and IT at Samsung India.
Samsung Galaxy Ace Duos
The Samsung Galaxy Ace Duos comes with dual SIM dual active technology that allows consumers to be reachable on their CDMA and GSM numbers all the time. With an 832 MHz processor, this device offers users fast data processing and the ability to use multiple applications at the same time, along with a smooth web browsing experience. It is based on Android 2.3 Gingerbread operating system.
The device has an 8.89 cm HVGA display and also EvDO Rev A capability, which enables data download at super fast speeds of 3.1 Mbps over CDMA. Galaxy Ace Duos comes with a powerful 1650 mAh battery that allows users to enjoy seven hours of talktime. The Samsung Galaxy Ace Duos is priced at Rs 16,900.
Galaxy Y Pro Duos
Galaxy Y Pro Duos (GT B5512) is an Android based dual SIM device with a Qwerty keypad. With WiFi direct and BT 3.0 support, the device offers improved connectivity and enhanced productivity with a touchscreen and optical track pad. With the increasing necessity to stay connected, the device supports Social Hub Premium.
The smartphone has a 6.5 cm LQVGA, capacitive touchscreen, a 3 megapixel fixed focus rear camera and a VGA front camera for video telephony, and a 1350 mAh battery. Samsung Galaxy Y Pro is priced at Rs 11,090.
Samsung Galaxy Y Duos
Samsung Galaxy Y Duos (GT-S6102) is Samsung's first full touch dual SIM device. It can be used for data and calls simultaneously. The device comes uploaded with Social Hub and Samsung messenger ChatOn. With a QVGA resolution 3.14 inch screen and 832 MHz processor, the device offers spacious viewing and speedy performance.
The Galaxy Y Duos is priced at Rs 10,490.
Samsung Champ Deluxe Duos
Samsung Champ Deluxe Duos (C3312) is a powerful, yet compact device. Its slew of features, such as virtual Qwerty, Hindi language input, native Facebook and Twitter apps, and messengers that include Yahoo, MSN and GTalk, make it an extremely appealing device. In addition, it comes with Bluetooth 3.0 connectivity at 24 Mbps, push mail with Activesync and Opera Mini browser. ChatOn (Samsung's messenger service) is also available on the phone.
The 1.3 megapixel camera, MP3 player, FM radio and 3.5 mm ear jack make sure that the user has an entertaining multimedia experience. The device is priced at Rs 4,790.
Samsung Star 3 Duos
The full touch Samsung Star 3 Duos is a feature rich device with easy social connectivity. The device comes loaded with features such as push IM (ChatOn, mFluent), Native SNS (Facebook, Twitter), weather widget, push email (EAS), POP3 email with WDS easy email setup, dictionary and Hindi language input (via a 3×4 keypad).
The device has a 3.0 inch QVGA TFT with C-TSP, a 3 megapixel camera and 1000 mAh battery, and costs Rs 6,290.
"We are looking at creating a new segment in the smartphone market by launching our new range of dual SIM smartphones and at the same time, we hope to further consolidate our leadership in the smartphone market in India," added Yadav. With the launch of these smartphones, Samsung has 16 smartphone models priced between Rs 7,360 to Rs 38,250.