Samsung has officially announced the launch of its latest Exynos 9 series processors with Exynos 9810. The chipset is currently in mass production and it is highly likely to power the latest Galaxy S9 series that is reported to be announced next month.
The latest processor is based on the 2nd generation 10-nanometer (nm) FinFET process technology. The processor comes loaded with new third-generation eight-core CPU with four being high-performance Exynos M3 CPUs that can be clocked at 2.9GHz and four ARM A55 CPUs that are optimized for efficiency. This is coupled with the latest Mali G72MP18 GPU for smoother performance. The company says that the latest processor has an enhanced performance than its predecessor with single-core performance being up two-fold and multi-core performance is increased by around 40 percent.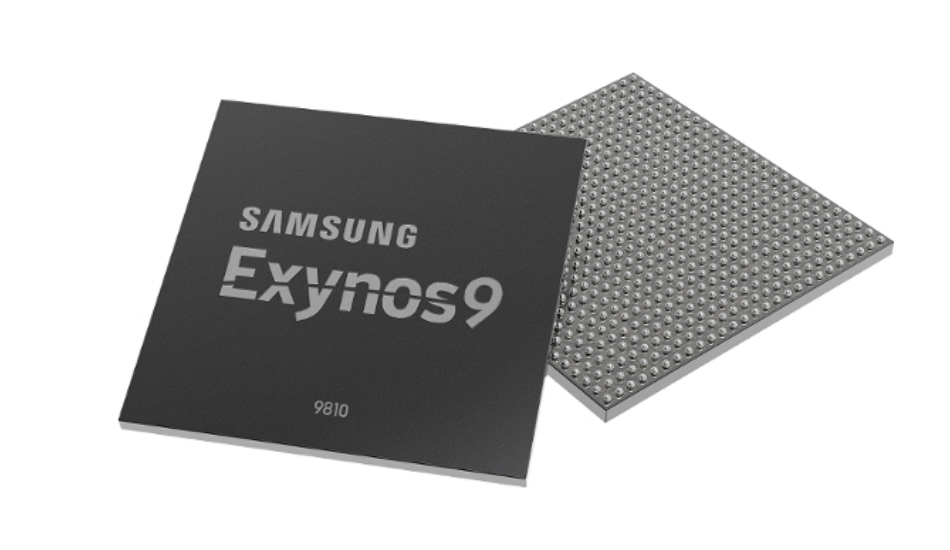 The Exynos 9810 processor also some loaded with neural network-based deep learning that allows the chipset to recognise people or items in photos for fast image searching. Then there is depth sensing that scan a user's face in 3D for hybrid face detection. "By utilizing both hardware and software, hybrid face detection enables realistic face-tracking filters as well as stronger security when unlocking a device with one's face," the company said in a statement. For added security, the processor has a separate security processing unit to safeguard vital personal data such as facial, iris and fingerprint information.
Another interesting thing about the latest processor is the new 1.2Gbps LTE modem that makes it easier to broadcast to stream videos at up to UHD resolution and 360-degree videos. It's also the industry's first Cat.18 LTE modem to support up to 6x carrier aggregation (CA) for 1.2Gbps downlink and 200 megabits per second (Mbps) uplink. The modem supports a 4×4 MIMO (Multiple-Input, Multiple-Output) and 256-QAM (Quadrature Amplitude Modulation) scheme, and utilizes enhanced Licensed-Assisted Access (eLAA) technology.
You might also like this:
The Exynos 9810 processor comes with a dedicated image processing and upgraded multi-format codec (MFC). Through this users will see advanced stabilization for images and video of up to UHD resolution, real-time out-of-focus photography and brighter pictures in low light condition with reduced noise and motion blur. The upgraded MFC supports video recording and playback at up to UHD resolution at 120 frames per second (fps). With 10-bit HEVC (high-efficiency video coding) and VP9 support, the MFC can render 1,024 different tones for each primary colour (red, green and blue).