Salora International, a leading player in Indian consumer electronics industry, is foraying into the mobile handset market with the launch of its SM501 and SM401 models.
Salora plans to launch the mobile phones in the markets of eastern India, Delhi-NCR, Jammu & Kashmir, Himachal Pradesh and Punjab.
SM501 will cost Rs 2,999 while SM401 will cost Rs 2,499.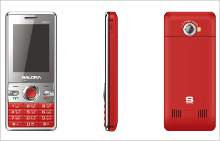 While SM501 comes in black and red colours, SM401 have soothing colors of light green and blue. Apart from support for Hindi and English, both phones allow users to operate in regional languages, like Bengali.
Targeted at multimedia lovers, SM501 comes with touch screen facility, which can be used either with fingers or stylus. The handset comes with a 3.5mm adaptor that fit regular earphones, headphones and portable speakers.
Both the models have the design of a bar phone and come with an easily manageable dual SIM feature that allows users to operate two SIM cards in one phone flexibly. They allow easy access to either card, so that the user can access two separate phone numbers and make calls under the most optimal calling plan.
The 1.3 MP camera with flash and zoom facility helps users to click pictures better in lower light and share with friends right away.
Speaking on the occasion of launch Gopal Jiwarajka, managing director, Salora said, "These ranges of mobile phones will give users a complete multimedia experience like never before. Its audio technology has LED to an incredible sound performance with high quality K class amplifier."