Finally, Micromax first octa core handset – Canvas Knight, has been launched in India. Micromax has cleverly priced it at Rs 19,999, making it very close to the Intex Aqua Octa which is currently selling for around Rs 19,000.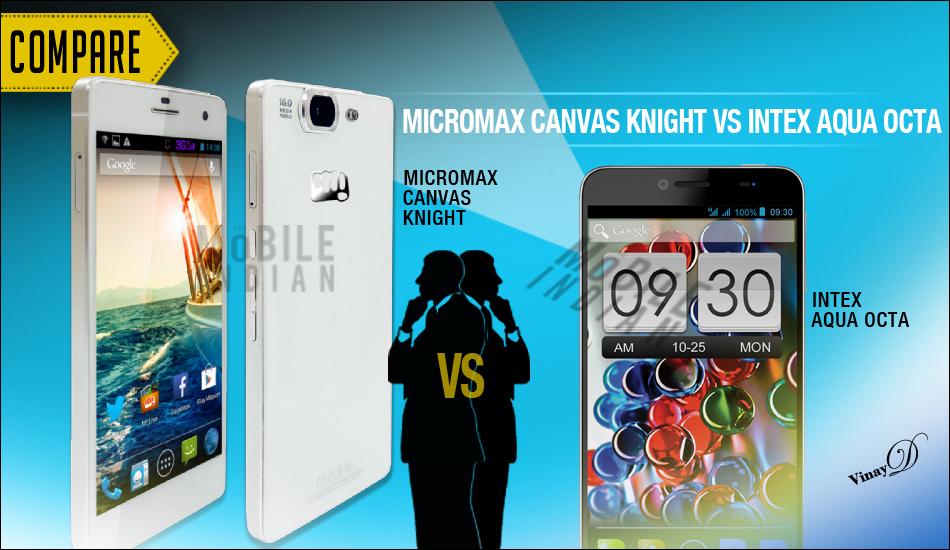 We had some time back compared these two phones but then all the details of the two phones were not available. Recently, we had reviewed the Intex Aqua Octa and even had a chance to check out the Micromax Canvas Knight yesterday itself when Micromax announced the launch of the phone in India.
So here is our revised compare of Intex Aqua Octa and the Micromax Canvas Knight.
Design and Display
The phones are entirely different when it comes to design and will appeal to different kind of users. For instance, the full aluminum body of Canvas Knight is much shiny and its glass covered back panel will attract the youth who want some glamour quotient in their phones. The Intex Aqua Octa too has a metallic rear panel but it does not have unibody design and neither it has a glass covering as the Micromax handset. However, the Intex Aqua Octa has a much smoother feeling to it and is not a finger print magnet like the Canvas Knight.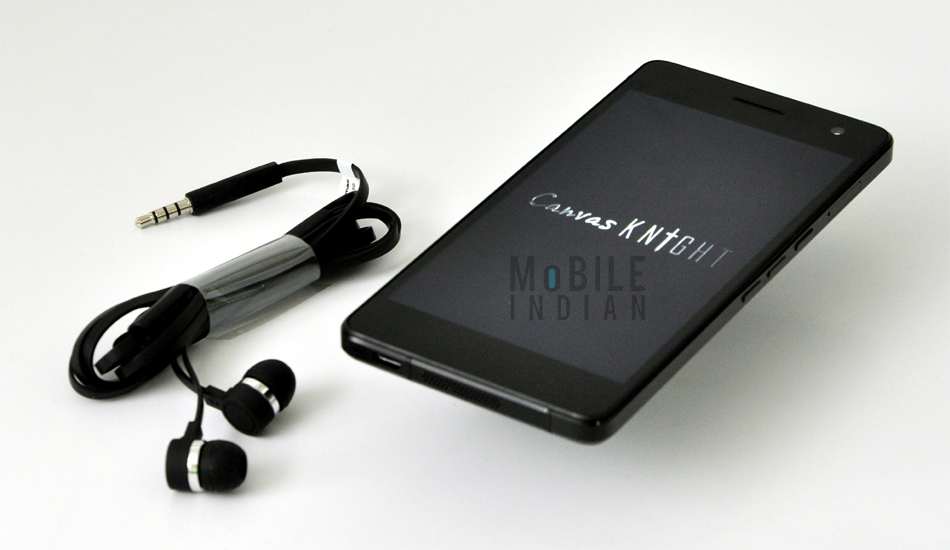 Also, the dimensions of the phones make them entirely different class of handsets. The Intex phone has a 6 inch display which makes it much larger than the 5 inch display bearing Canvas Knight. Most users may not be able to operate 6 inch devices but those who can a bigger display has many advantages with it.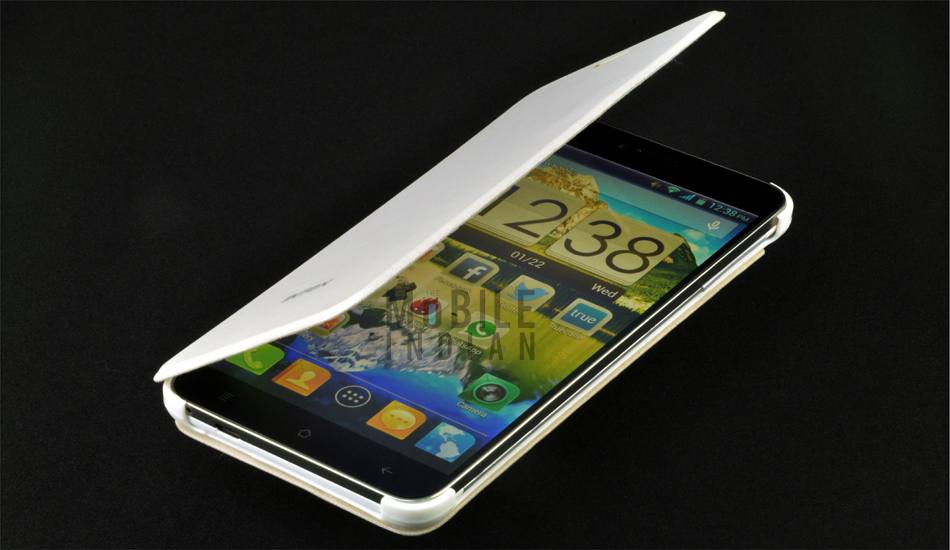 Displays of both the handsets come with full HD resolution but being a smaller display, the 5 inch screen of Canvas Knight obviously has better pixel density. But nonetheless you won't feel much of difference in the two handsets.
###PAGE###
Hardware
Both the handsets come with the same Mediatek MT6592T True Octa core processor. They have also the same 2 GB RAM as well as the Mali 450 GPU. So we do not expect much of a difference in terms of performance. However, in terms of storage, the Intex Aqua Octa is much better with its 16 GB internal storage and a 32 GB micro SD card slot. On the other hand, the Canvas Knight has only 32 GB internal storage and no expandable storage slot.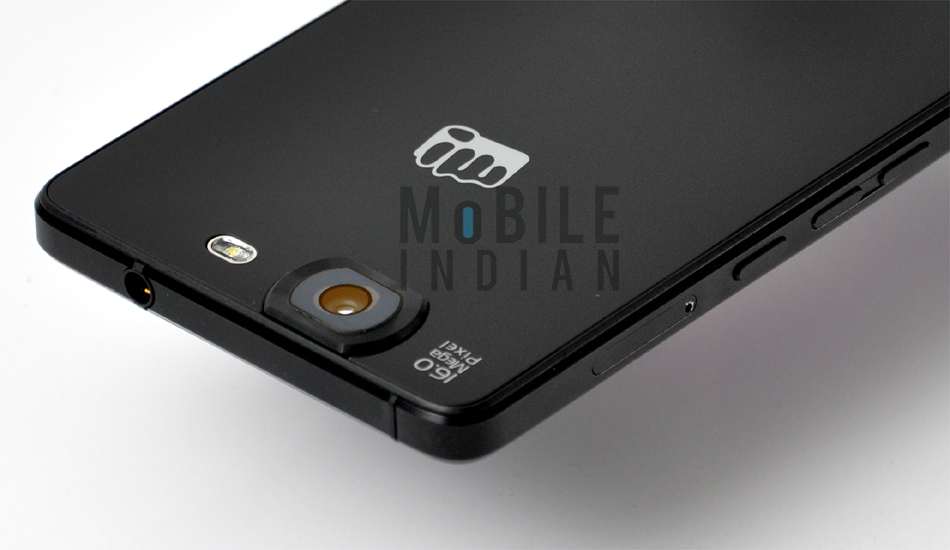 The Intex Aqua Octa comes with a 2300 mAh battery and it gives decent battery back up even though it has a 6 inch display which has much more battery requirement than the 5 inch screen of Canvas Knight. The Micromax Canvas Knight comes with a 2350 mAh battery which should ideally give much better battery back up than the Intex phone but we can say more about that after a thorough review of the Canvas Knight for which you have to visit The Mobile Indian again after few days.
Both the smartphones come with dual SIM connectivity. They have also WiFi, GPS, and Bluetooth.
Camera
Intex Aqua Octa comes with a 13 megapixel rear camera with auto focus capability. To assist it in low lights, it has an LED flash. It also has a 5 megapixel front camera for taking selfies and making video calls. The rear camera manages to capture good photographs in good lighting conditions but in low light conditions it is found wanting. Also, auto focus feature takes a bit long time to lock in. On the other hand pictures taken from front camera are quite good and crispy. If you love taking selfies you will enjoy it doing on this phone.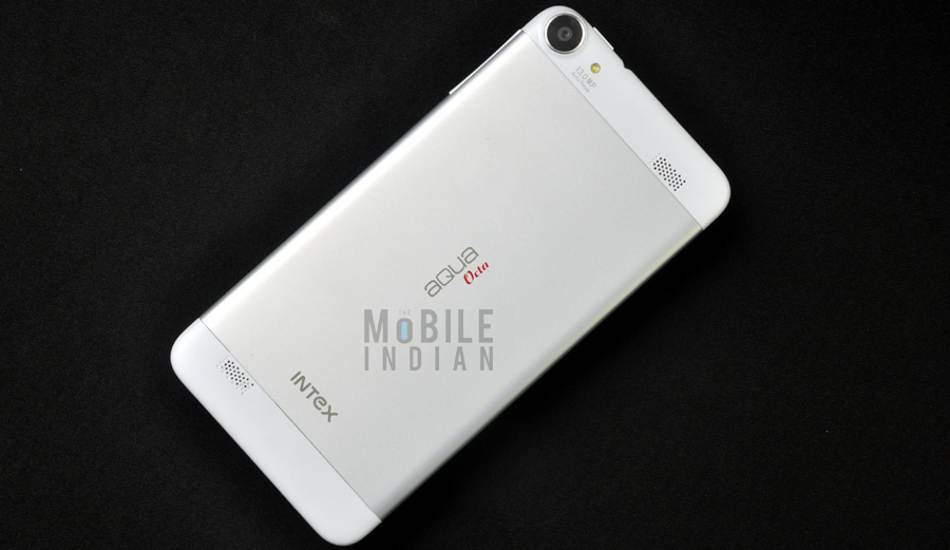 The Micromax Canvas Knight has a better looking 16 megapixel rear camera and has a 8 megapixel front camera. We were pretty pleased with the rear camera of Canvas Knight but more about its camera quality is to be explored. Meanwhile, you can check the pictures of Micromax Canvas Knight here.
Conclusion
As I said above in this article, the devices are entirely different though they are often compared for their same chipset. The Intex Aqua Octa is for big guys who prioritise work over looks; the Canvas Knight is for those who do not want to sacrifice the looks. Micromax must be commended for bringing design elements of premium handsets to a device priced below Rs 20,000. But the lack of expandable storage and non-removable battery may go against the Canvas Knight.
You can check our Intex Aqua Octa review and Micromax Canvas Knight's First Cut for more information.