Nokia has come out with a unique method of promoting the features of its smartphone – the N8, creating a world record in the process. To achieve this, all the company had to do was bring together stop motion technique, a beach and its very own Nokia N8 smartphone.
The stop motion film is 92 seconds long and is titled Gulp. The story of the film is about a fisherman's adventure in the sea. The world record is for having the largest film set, spread over 11,000 square foot area, ever used in a stop motion film.
The action in the 92 seconds movie was captured by three Nokia N8 handset cameras stationed on a crane. Nokia is continuously coming up with unique innovative ideas to use Nokia N8 in different ways, as reported by The Mobile Indian earlier.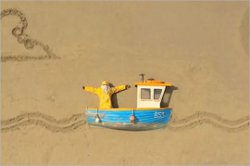 The film making crew had to struggle against time and tides to complete shooting of the film over five days. The team availed the services of sand artists, animation students, and stencils to create the movie scenes.
Co-director of the movie 'Gulp' Will Studd said, "The film was a huge test of planning and coordination with Mother Nature, we were incredibly lucky with conditions and tide times, sometimes we got our final frame for the day just as the waves crashed in around our set! Obviously the turn-around had to be so quick with such a short window, but working with the team was fantastic as usual and we got everything we set out to achieve. The Nokia N8 stood up to the challenge and produced some outstanding images."