Weeks after introducing built-in VPN service inside its mobile web browser, Opera has launched the version 60 of its desktop web browser which has been labelled as Reborn 3, built for the upcoming Web 3 explorer. With the launch of the Reborn 3, Opera becomes the first major computer browser to include a native Crypto Wallet and Web 3 explorer, allowing transactions and blockchain-based Internet inside its interface.
Starting today, users can type in the address of a Web 3 application into the address bar of the Opera computer browser and they will be able to explore Web 3. The web browser also adds a new Crypto Wallet which syncs between the PC and smartphone of users so that wallet keys never leave the users' smartphones.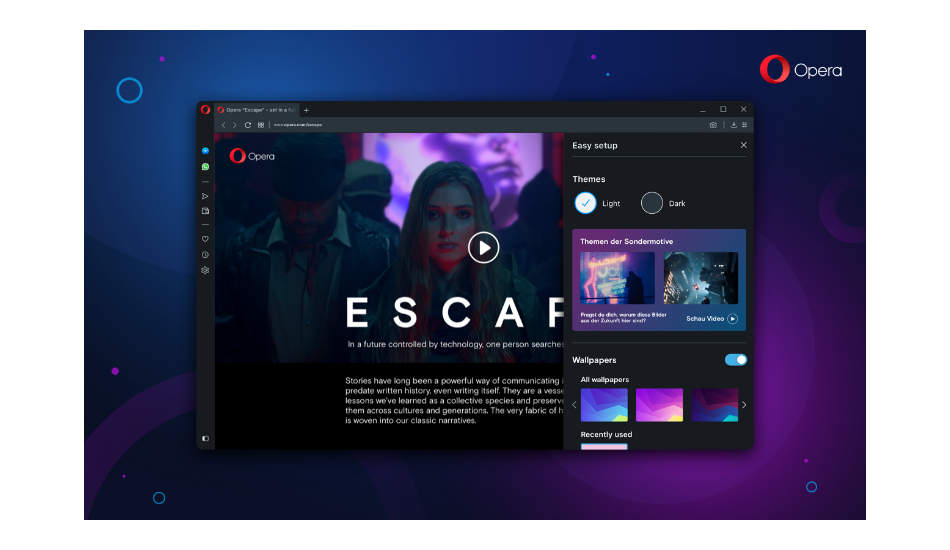 Users will get a notification on their smartphone whenever they need to identify themselves to a Web 3 website or sign a transaction on the blockchain. The users can then confirm it in the same way they unlock their system, using either their fingerprint or their face.
The Crypto Wallet will also be added to the Opera Touch browser on iOS soon.
Other minutes additions include a new borderless design and light/dark themes to maximise or minimise the amount of light in a photo while still retaining contrast. The web browser also offers a fast and free VPN service which enhances users' online privacy and improves their security when using public networks. The services offer no-logs and establish a secure, encrypted allowing no third party sites to know your geographical location.
Speaking about their latest development, Opera Head of Browsers EVP, Krystian Kolondra said "The Web has transformed our lives. We are now continuously online. But, the more time we spend online, the more we need tools that help us control the security and privacy of our digital lives. With this major upgrade, we are taking the first step into Web 3, the new Web, where users are in control. We believe every browser in 2019 should be Web 3-ready".