Samsung has been the major player in the mobile phone business in India for over a decade, managing to sell the most phones in any price range phones came in. Even with the influx of Chinese OEMs in the Indian market, Samsung ended the last fiscal year with a 27 percent growth in mobile revenue, clocking a whole Rs 34,300 crore in mobile sales itself. But sometimes even such impressive numbers can hide key possibilities.
A recent report suggested that Samsung has lost its "most trusted brand" title to Xiaomi, a company which has only been in the Indian market for less than half a decade. Be it budget smartphones or mid-range devices, Samsung seems to be struggling to retain its market share among Indian consumers, which brings us to the question, is Samsung losing out? To talk about this, we need to delve upon how the cellphone market got to the point where it is now.
Ten years ago, when Apple launched its first ever iPhone that went on to be a big-time success, the company's then chief Steve Jobs revealed that the company would keep to launching one device a year. This was brought in line to ensure Apple sold its older iPhone even when a newer model was launched. While the company now has Plus and SE versions that they release with their regular iPhones, relying on their old business model has helped Apple cover an ever larger segment at lower price points, while never losing their premium sheen. As lower-priced purchases are being done for 'dated' iPhones. That's the reason, the iPhone 4 is still in existence, for people who want an Apple phone but can't afford to buy a premium iPhone.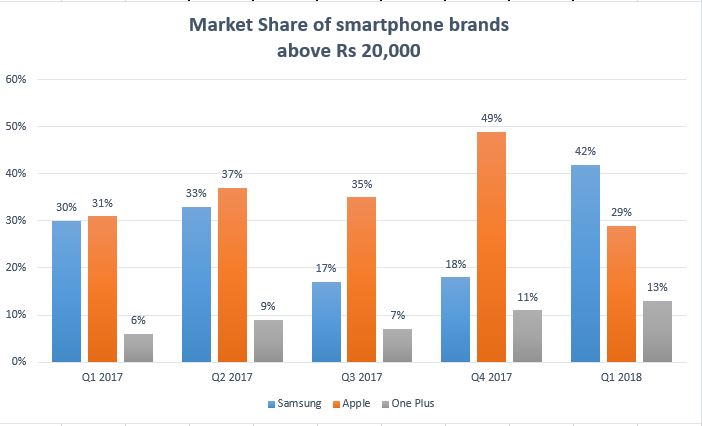 Source: CMR
But not all companies can follow a lean product line to sell their devices. For example, while Apple unveiled the iPhone X, iPhone 8 and iPhone 8 Plus in 2017, in the same year, Motorola launched 11 devices with Samsung taking the wrappers off 23 devices, that's almost two new smartphones a month.
It's more than confusing for casual smartphone buyers who want to buy a new smartphone but why would the South Korean company promise to take the liability of providing software updates get new hardware with so many smartphones, keeping aside the risk of losing its current batch of customers? Why would Samsung not take Xiaomi's approach and push their customers into opting for a specific price range instead of releasing a smartphone in each and every price niche?
There's a simple explanation to this and the keyword here is 'shelf space'. Be it any market: food, clothing or technology; a company is expected to sell more when it has different segments dedicated for costumers with variable spending power. The more space a company takes up in the spectrum, the more visible they'll be in the market.
For example, if you're out to a showroom (or an online store) and you're searching for a device that you'd pay Rs 30,000 for, you'll find the OnePlus 6 for Rs 35,000, while Samsung will have lined up a device or two matching your budget, which is Rs 30k. Five years ago, users were either greeted with a Motorola or an LG device which weren't as continuous as Samsung in delivering a device for one's choose price point. Now, Motorola has the Moto C as its entry-level smartphone, Moto E as a budget phone, the G Series for a lower mid-range smartphone, the Moto X for a proper mid-range device and a Moto Z for an aggressively priced flagship.
This idea was inspired by Samsung and until a few years ago proved to be a solid marketing strategy. But as in life changes are required, and Samsung's old business principles don't appear to be working for them anymore. While the Korean firm has continued to flourish in the premium segment, the company's sales in the mid-range cap tell a different story. With growing competition from Xiaomi, OnePlus, Nokia, Vivo, and Oppo, does Samsung fail to impress among other premium mid-range smartphone in the segment? Here's a list of devices Samsung has released in the recent months with detailed specifications and its closest alternatives at the same price range versus what they offer.
Entry-level mid-range smartphones
Earlier last month, Samsung introduced the Galaxy A6 in India as an entry level experiment at the mid-range smartphone segment which went on to be priced at Rs 21,990. The device was powered by an Exynos 7 series octa-core processor that clocked in at 1.6GHz with up to 4GB of RAM and 32GB/64GB storage. While powering a device with one's own chipset speaks for itself, Samsung furnished the A6 with a lowly 5.6-inch HD+ display that had a mere resolution of 1480 x 720 pixels and a single primary camera at the back.
For the same price point, users have valid alternatives with the likes of Vivo V9 which offers the mid-range Snapdragon 626, large screen space and a dual 16+5MP camera setup at the rear end; Oppo F7 offered a better selfie experience with a 25MP front-facing camera and the latest Android 8.1 Oreo. Interested users could also buy the Huawei P20 Lite which provided them with dual 16+2 MP rear & a 24MP front-facing cameras and a Full HD+ display. All three of these non-Samsung phones came under Rs 21,990 and are in fact way cheaper than the Galaxy A6.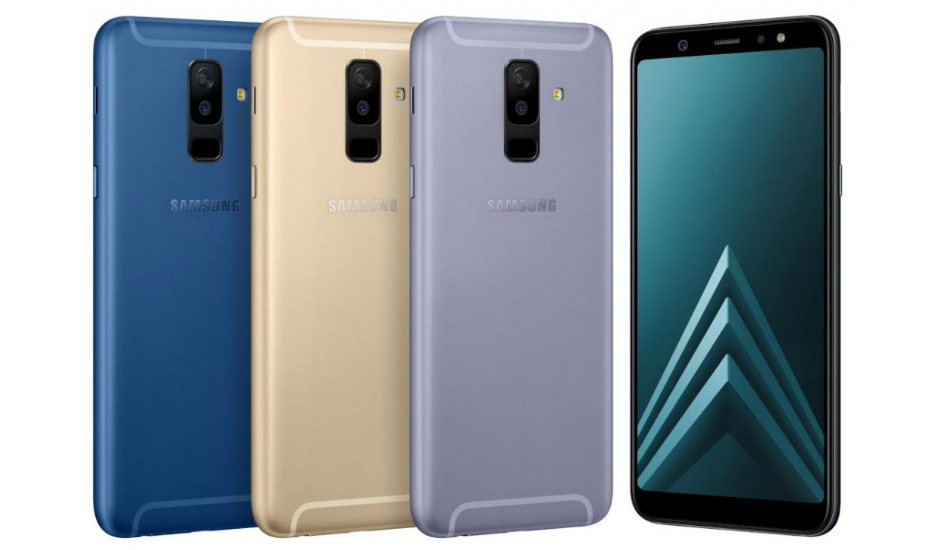 Samsung India also unveiled the A6 Plus last month featuring an octa-core Snapdragon 450 chipset, up to 4GB RAM and 64GB storage, Full HD+displays and dual 16MP+16MP sensors at the back for imaging purposes. While Samsung provides a better camera and display here, the company has compensated big time on the chipset being used, all of which is priced at Rs 25,990 in India. For the exact same price, users have the best alternatives in the Nokia 7 Plus and Motorola Moto X4. While the Moto device packs in the older Snapdragon 630 SoC, there's an abundant 6GB of RAM running stock Android Oreo and having dual 12MP + 8MP cameras the back. The Nokia 7 Plus on the other hand while having the same 4GB Ram as the Samsung phone offers a newer and more powerful Snapdragon 660 chip, larger display and ZEISS powered optics.
The Galaxy A8 Plus (2018) was one of the first devices launched by Samsung this year and while it started for a price of Rs 32,999, the smartphone is now available for purchase on Amazon for Rs 27,999 after regular price cuts. Although, the A8 Plus is a powerful device with an Exynos 7885 processor, 6GB of RAM and 64GB of storage, 16MP + 8MP dual-camera setup at the front, and a single 16MP camera at the rear, the device doesn't quite qualify for the price that it's available for. For more or less the same amount of money, users have a ton of options including the Honor View 10, Xiaomi Mix 2 and the Nokia 8, all of which come with flagship internals like the Kirin 970 or last year's Snapdragon 835, which is still more powerful than the Exynos 7885 on the A8 Plus. The Mix 2, especially packs in a gorgeous bezel-less front and tops it up with a massive 128GB storage for almost the same price.
True mid-range smartphones
Samsung unveiled the Galaxy A9 Star in China earlier this month as the device came with a proper mid-range Qualcomm Snapdragon 660, Adreno 512, 4GB of RAM and 64GB of internal storage, 6.28-inch Full HD+ Super AMOLED Infinity display and dual 16MP+24MP camera at the back. While the device has already gone on sale in China for 2999 yuan, we expect the price of the A9 Star to be set at Rs 31,990 when it launches in India later this year.
Samsung is also offering Galaxy A8 2018 which is expected to release at the end of this month with a 2.2GHz Exynos 7885 chip, 4GB of RAM, dual 16+8MP front shooters and a 5.6-inch Super AMOLED Full HD+ display. The A8 will also be priced at around Rs 30,990, while the company has its mind set on other mid-range devices for release in the coming months.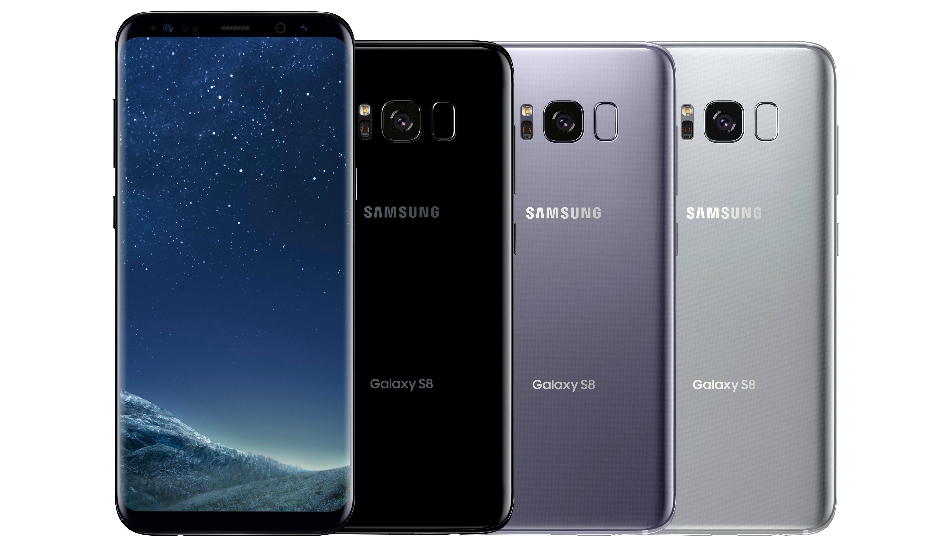 The South Korean Giant is also taking a page off Apple's manual and is currently selling last year's flagship at a reduced price of under Rs 40,000, which appears to be good upon first glance but a detailed read brings up differences from our expectations. The Galaxy S8 that Samsung is selling for around Rs 40,00o is powered by octa-core Exynos 8895 chipset and not a Qualcomm processor, with a standard 4GB of RAM and 64GB of internal storage. In a generation of dual camera functionalities, the single 12-megapixel rear sensor doesn't actually live up to the single dual-pixel technology that Pixel 2 uses for its imaging capabilities.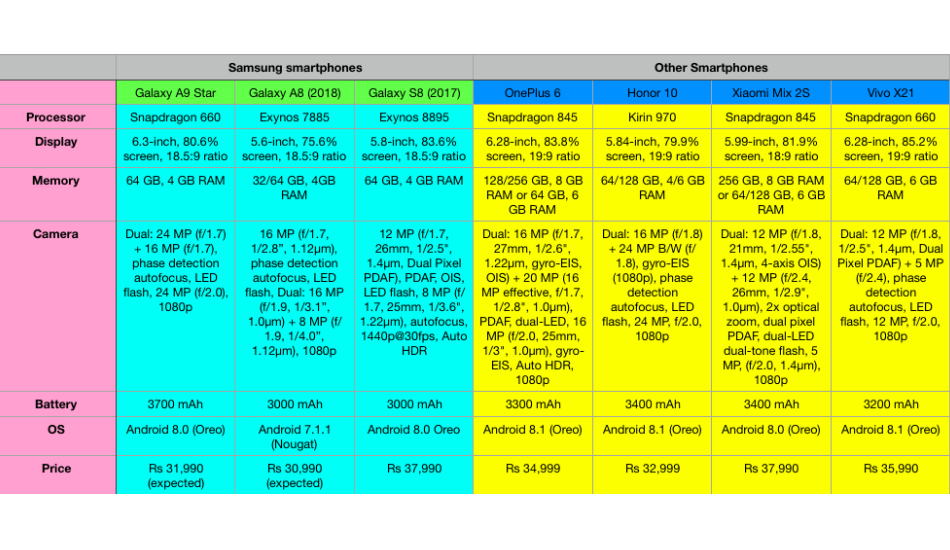 While Samsung is yet to follow up on newer mid-range smartphones, it's current lineup barely holds well with constant competition from OnePlus, Honor, Xiaomi and Vivo. The recently launched OnePlus 6 has enjoyed quick success with one million units sold in under 22 days offering a Snapdragon 845 with 6GB RAM and 64GB internal storage, 6.28-inch Optic AMOLED screen and 16+20MP dual rear cameras for bokeh shots. All this for a lowly price of Rs 34,999 which is a bargain in its segment. For a lower price of Rs 32,990, the Honor 10 offers a Kirin 970 chipset with dual AI cameras and in an in-glass fingerprint scanner, also of which is packed under a gorgeous multi-coloured glass. The Vivo X21 and the Xiaomi Mix 2S also pack a distinguished set up with high-end specs and distant designs, sparing no compromises Samsung does with its non-flagship smartphones.
Verdict:
After proper fact checking and comparing it with other players in the market, what's clearly noticeable is that Samsung seems to be counting on momentum and brand loyalty. So a solid distribution muscle along with brand loyal customers are expected to keep the brand coming in. We believe this strategy will run its course soon, as younger customers shift to other brands.
With cheaper and more efficient phones being pushed beyond the urban crowd, Samsung will have to improvise on its outdated hardware and work on bringing challenging products to its portfolio rather than relying on its brand name. If not, it won't just be Xioami eclipsing the sales of the South Korean company but newer players like OnePlus, Vivo, Oppo or even HMD's Nokia, which Samsung has recently been losing its market shares to.