Philips quit the mobile phone space more than a decade ago but the brand is now making a comeback on 7 September with the launch of six touchscreen feature phones with extremely long battery life.
A spokesperson of the company confirmed this to The Mobile Indian. She further informed us that the company is going to launch a smartphone as well in August.
Among the features phones are two dual SIM full touchscreen devices, and three bar phones with long battery life. None of the phones comes with 3G, however two of the touchscreen devices support Edge.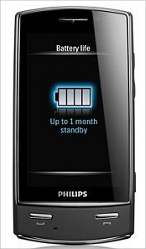 X806 Black will be one of the dual SIM phones which will have a 3 inch touchscreen display and a 5 megapixel auto focus camera with Flash. It also offers up to one month of standby support and 70 hours of music play back time through its 1530 mAh battery.
The other phone is the X518 Black. It too is a dual SIM device with a small 2.8 inch touchscreen display, with a 2 megapixel camera. Both the phones support external SD cards for memory.
The phone offers 12 hours of talktime and a month's standby time. The exceptionally long battery life is thanks to a technology called Xenium, which allows the phone to use near zero battery while on standby mode, extending battery life considerably as much of the time even the most prolific users' phones lie unused.
The company will also launch smartphones that use the same technology in October, but for the time being we will have to wait and see how the phones deliver on the promises.