India is currently witnessing a boom of smartphones with large screen sizes. This was revealed by a survey of The Mobile Indian (TMI) in which the online preferences of over one million people who visited the website in August were analysed.
As per the Handset Hotlist survey, of the 25 most searched mobile phones on The Mobile Indian, 12 have 5 inch or bigger displays, and of the remaining handsets, ten have displays between 4 and 5 inches.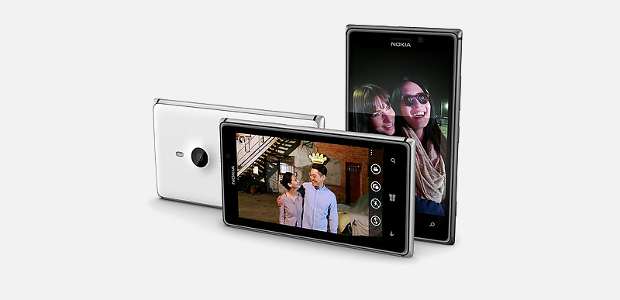 In we analyse the consumer's searching behaviour towards screen sizes of phones since January 2012, data from The Mobile Indian showed that average screen size among the 25 most searched phones was 2.9 inches and in July last year it was 3.5 inches. In January and July this year it was 4.1 and 4.5 inches, respectively. In the latest monthly survey that size has risen to 4.6 inches among the Top 25 handsets.
Commenting on the trend, a spokesperson for The Mobile Indian, said, 'Rise of phablets or smartphones with 5 inch and bigger screens is primarily driven by Indian handset marketers who have made phones with large screens available for as low as Rs 6,400.'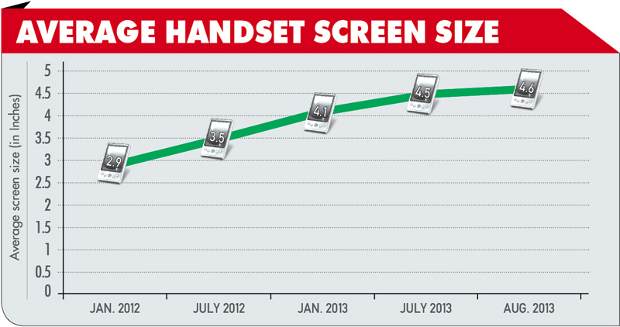 The spokesperson further added, 'Apart from affordable pricing, operators, handset marketers and app players are currently focusing on creating awareness among users about using the mobile internet. Consumers on their part want to experience it on larger mobile screens, which is leading to their affinity towards phablets.'
As per the Handset Hotlist survey, Micromax Canvas 4 is the most searched smartphone- this is its second consecutive stint at the coveted position. Also, after a gap of five months two handsets from HTC made it to the list: HTC Butterfly S and HTC One dual sim.
Of the 25 most searched handsets, six were from Samsung, five from Micromax, three each from Nokia and Sony, two each from Xolo and HTC, and one each from LG, Karbonn, Apple and Intex.
As far as Relative Score is concerned, this month there was close competition for slot No 2, 3 and 4 for grabbing consumer interest. After that it was quite neck to neck from position no 8.
Top 25 Handset Hotlist for September-2013

| Rank Aug | July | Change | Model | Relative Score | Price (in Rs.) | OS | Screen Size (in Inches) |
| --- | --- | --- | --- | --- | --- | --- | --- |
| 1 | 1 | 0 | Micromax Canvas 4 | 100 | 17,000 | Android v4.2.1 | 5 |
| 2 | 13 | 11 | Samsung Galaxy Core | 52 | 12,900 | Android v4.1 | 4.3 |
| 3 | na | new | Xolo A500S | 51 | 6,500 | Android 4.2 | 4 |
| 4 | 3 | -1 | Samsung Galaxy Mega 5.8 | 49 | 21,000 | Android v4.2.2 | 5.8 |
| 5 | na | new | Sony Xperia M | 41 | 12,500 | Android v4.1 | 4 |
| 6 | 2 | -4 | Nokia Asha 501 | 40 | 4,999 | Asha OS | 3 |
| 7 | 8 | 1 | Samsung Galaxy S Duos | 25 | 9,300 | Android v4.0 | 4 |
| 8 | 12 | 4 | Micromax A92 Canvas Lite | 19 | 7,800 | Android v4.1.2 | 5 |
| 9 | 16 | 7 | Xolo Play T1000 | 19 | 13,999 | Android v4.1.1 | 4.7 |
| 10 | 5 | -5 | Karbonn Titanium S5 | 19 | 10,000 | Android v4.1 | 5 |
| 11 | 17 | 6 | Micromax Canvas Doodle A111 | 18 | 9,949 | Android v4.1.2 | 5.3 |
| 12 | 25 | 13 | Samsung Galaxy Grand Duos I9082 | 17 | 17,990 | Android v4.1 | 5 |
| 13 | 6 | -7 | Nokia Lumia 520 | 16 | 8,999 | Windows Phone 8 | 4 |
| 14 | 10 | -4 | Samsung Galaxy Young | 15 | 7,400 | Android v4.1 | 3.2 |
| 15 | 14 | 1 | Intex Aqua i5 | 14 | 11,700 | Android 4.2 | 5 |
| 16 | na | new | Sony Xperia Z Ultra | 13 | 44,990 | Android 4.2 | 6.4 |
| 17 | 21 | 4 | Micromax A110Q Canvas 2 Plus | 13 | 10,000 | Android v4.2.1 | 5 |
| 18 | na | new | Samsung Galaxy Win (Quattro) | 13 | 17,090 | Android v4.1.2 | 4.7 |
| 19 | na | new | HTC Butterfly S | 13 | 50,000 | Android v4.1 | 5 |
| 20 | na | new | HTC One Dual Sim | 11 | 46,500 | Android v4.1.2 | 4.7 |
| 21 | 22 | 1 | LG Google Nexus 4 | 11 | 24,499 | Android v4.2 | 4.7 |
| 22 | 18 | -4 | Apple iPhone 5 | 11 | 43,000 | iOS 6 | 4 |
| 23 | na | new | Nokia Lumia 620 | 10 | 14,200 | Windows Phone 8 | 3.8 |
| 24 | na | new | Sony Xperia T | 10 | 11,630 | Android v4.0.4 | 4.5 |
| 25 | 23 | -2 | Micromax Canvas 3D A115 | 10 | 9,499 | Android v4.1.2 | 5 |