Oppo launched the Reno 2, Reno 2Z and Reno 2F smartphones in India last month for a starting price of Rs 29,990. The company has now trademarked 13 new smartphones under a new Z-series.
Oppo has registered 13 new trademark applications at the European Union Intellectual Property Office(EUIPO), reports LetsGoDigital. The trademarked monikers include devices which will be named as 2Z, 3Z, 4Z, 5Z, 6Z, 7Z, 8Z, 9Z, 10Z, 20Z, 30Z, 40Z and 50Z.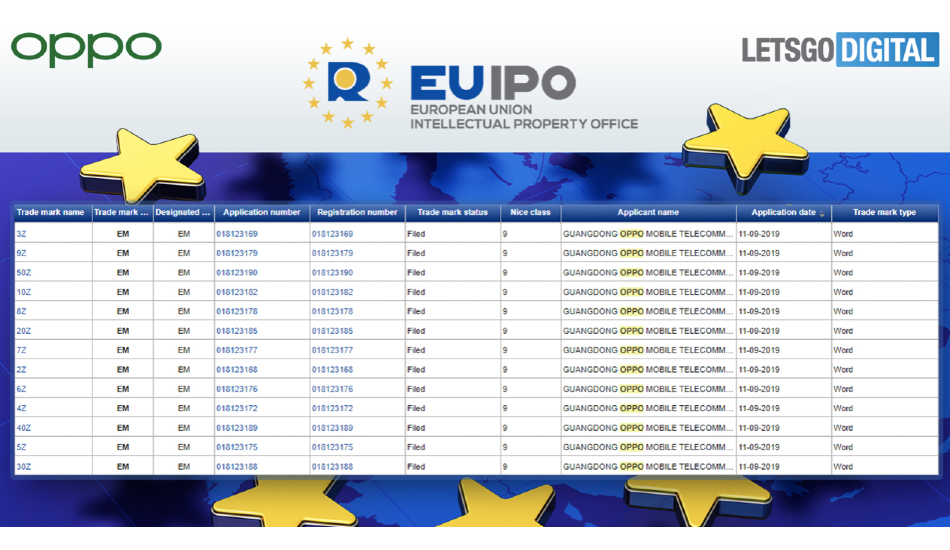 All 13 of the trademark applications were filed inside the Class 9 category which includes anything from a smartphone to the smartphone software, earphones or a charger.
The applications were registered at EUIPO on September 11, meaning we could still be months away from a release of the first phone from the new Z-series. While Oppo has always gone with a letter and a number combination on its phones, the new device names come in contrast as the number precedes the letter 'Z' in the new series.
If any of the devices turn out to be smartphones, it will be the first Z-series smartphone from the company. It'll be interesting to see if the new Z-series will have anything to do with the Reno 2Z which launched in India last month for Rs 29,990.
Besides the new Reno 2 lineup, Oppo is also gearing up to launch the Reno Ace which has been confirmed to debut on October 2019. The Oppo Reno Ace is expected come with a 90Hz display, 50W Super VOOC fast charging, Snapdragon 855 plus and 5G cellular support.