Oppo announced a new entrant to its mid-range smartphone segment in India with the launch of the Oppo K1. The device comes with an in-display fingerprint scanner and is the cheapest smartphone to do so for Rs 16,990. The Oppo K1 will be exclusively available on Flipkart starting from February 12.
For around the same price tag, the Oppo K1 faces competition from its recently divorced Realme brand's Realme 2 Pro smartphone which offers a similar setup on the inside with a familiar profile all around. Both smartphones offer dual camera setup for primary imaging, a glass-like back and solid internals. So which one would you choose to be the all-rounder budget smartphone? Let's find out.
Design:
The back of the Oppo K1 is made of a glassy gradient body which looks a lot like the back panel of the Oppo F9 Pro. However, the rear side isn't made of glass but looks premium due to the 3D holding process that makes the sad glimmer at different angles of light. The Astral Blue colour that we got our hands on has a gradient style finish which has different shades of Blue on the top half fading to pink hues down at the bottom.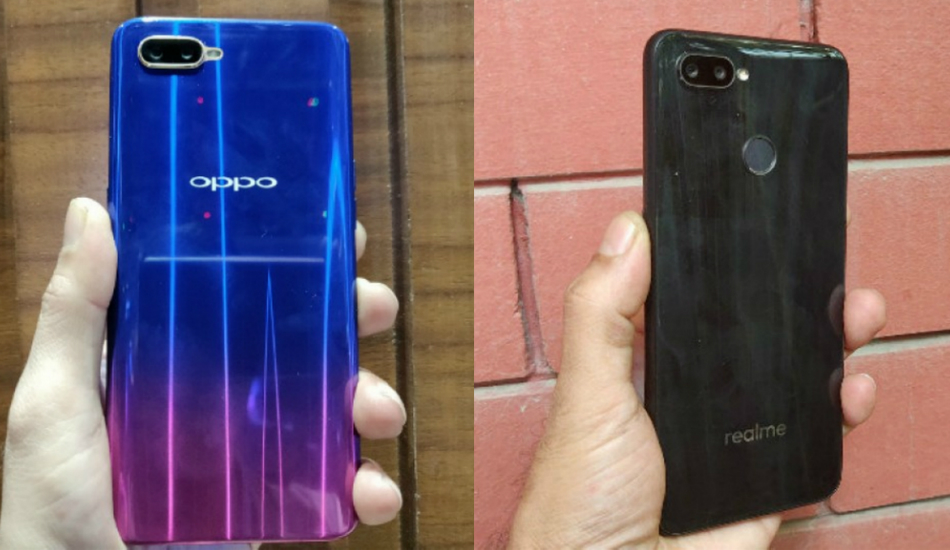 The Realme 2 Pro also comes with a glass-like finish at the back but the glossy back features a solid colour at the back, unlike its Oppo counterpart. There are the Ice Lake and Blue Ocean versions which stand apart from the crowd but for pure beauty points, it's the Oppo K1 which takes the design crown.
Winner: Oppo K1
Display:
The Realme 2 Pro features a 6.3-inch Full HD+ display with a screen resolution of 2340 x 1080 pixels and 19:9 aspect ratio. Realme has opted for a waterdrop notch at the front which houses the front-facing camera and the earpiece. The notch allows the device to feature a screen-to-body ratio of 84 percent, all of which is protected by a Corning Gorilla Glass 3.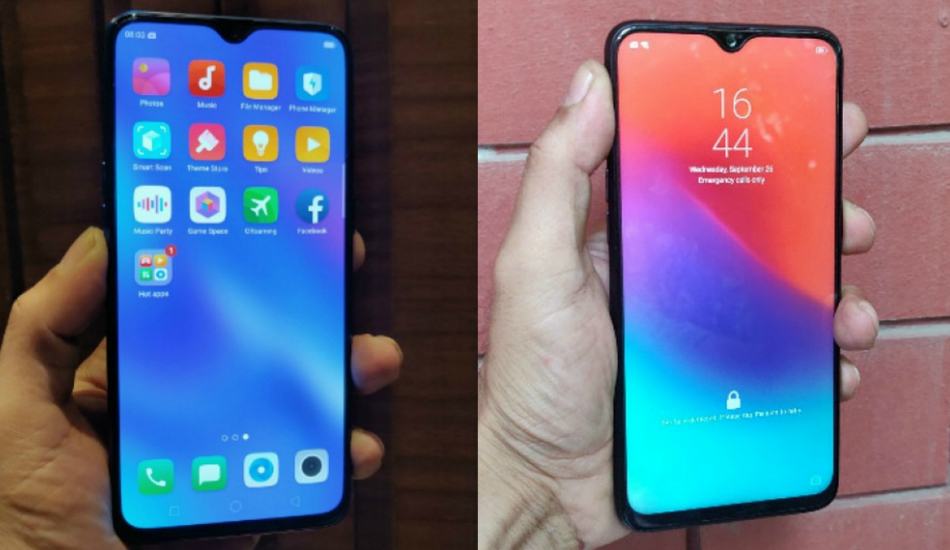 The Oppo K1 has its fair resemblance with the Realme 2 Pro but has an AMOLED display that spans to up to 6.4-inch Full HD+ screen. The display has a screen resolution of 2340 x 1080 pixels and features a familiar-looking teardrop notch because of which the screen real estate is boosted to feature a screen-to-body ratio of 84.5 percent. This display is also protected by the more recent Gorilla Glass 5 technology on top, thus making the Oppo K1 a better choice ahead of its Realme counterpart.
Winner: Oppo K1
Hardware:
Both the Oppo K1 and Realme 2 Pro are powered by the same Snapdragon 660 processor with 4GB RAM and 64GB storage options. However, the Realme 2 Pro is available with up to 8GB of RAM and 128GB of storage in its most expensive variant which is just around the same price at which Oppo sells the K1 smartphone. Performance on either smartphone will be similar and users will be able to play games on a longer basis thanks to the Snapdragon 660 chipset. The Realme 2 Pro takes the lead due to better RAM management that's possible because of the larger availability of RAM.
Winner: Realme 2 Pro
Software: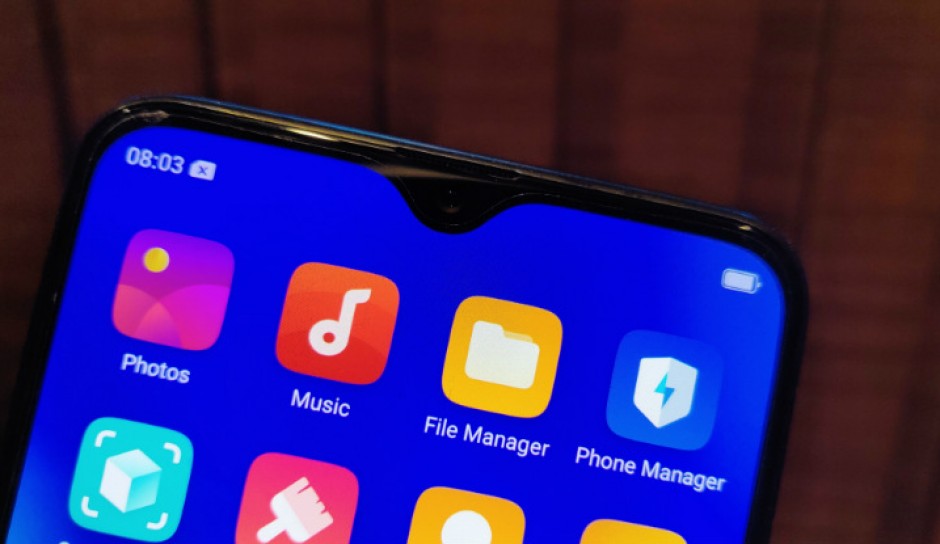 If you have used a Chinese branded smartphone in the past, by now you might have gotten used to a ton of customisation which weighs down the system several folds than an Android One device would. Both the Oppo K1 and Realme 2 Pro feature heavy skins over Android as both devices run on the same ColorOS interface. However, it's the Realme 2 Pro which is closer to an update to Android 9 Pie since the Oppo K1 released with Android 8.1 Oreo out of the box. Coming back to the interface, both devices offer fast Face Unlock, split-screen and navigation gestures with the AI engine that uses behaviour models for faster app launches and better info at the top.
Winner: Tied
Camera:
In terms of primary optics, the Oppo K1 and Realme 2 Pro both equip a dual-camera setup at the back. This is a combination of 16-megapixel, ½.8-inch Sony IMX398 sensor of f/1.7 aperture and 1.12-micron pixel size; and a 2-megapixel depth sensor used to create a bokeh effect. Photos from the main camera are in most cases sharp with plenty of resolved detail, excellent contrast, and accurate colours.
The only difference comes from the 25MP selfie camera on the front of the Oppo K1 which is just a standard 16MP sensor on the front. Oppo being a selfie-centric camera brand hasn't let go of its roots and has stuck to a 25MP AI camera that features an aperture of f/2.0 and 0.9µm pixel size.
Winner: Oppo K1, for selfies.
Battery:
The Realme 2 Pro is backed by a 3500mAh battery and the Oppo K1 comes with a slightly larger 3,600mAh power unit. However, in most cases, this barely makes a difference since a 100mAh is barely an improvement as both devices run on the same chipset with the same basic UI on top. Neither of the devices offers fast charging as both ships with the standard 2A/5V 10W power brick.
Winner: Tie
Bonus:
While the Realme 2 Pro is your regular budget phone with decent specifications, it doesn't offer any tricks up its sleeve. The Oppo K1 on the other hand packs in an in-display fingerprint scanner on the front, thus managing to be the cheapest device to equip such a technology. It's surely something cool since it's the only handset under Rs 20,000 to come with a display-embedded fingerprint scanner.
Winner: Oppo K1
Verdict:
| | | |
| --- | --- | --- |
| | Oppo K1 | Realme 2 Pro |
| Processor | Snapdragon 660 | Snapdragon 660 |
| Display | 6.4-inch Full HD+, 2340 x 1080 pixels | 6.3-inch Full HD+, 2340 x 1080 pixels |
| Memory | 4GB RAM, 64GB storage | 4/6/8GB RAM, 64/128GB storage |
| Camera | Rear: 16MP (f/1.8, 1/2.8″, 1.12µm, PDAF) + 2MP, Front: 25MP (f/2.0, 1/2.8″, 0.9µm) | Rear: 16MP (f/1.7, 1/2.8″, 1.12µm, PDAF) + 2MP, Front: 16MP (f/2.0) |
| Battery | 3,600mAh | 3,500mAh |
| OS | Android 8.1 Oreo, ColorOS 5.2 | Android 8.1 (Oreo), Color OS 5.2 |
| Price | Rs 16,990 | Rs 13,990, Rs 15,990, Rs 17,990 |
The Oppo K1 is really everything that the Realme 2 Pro is but a little more. It not only features a stunning gradient design that can be easily confused with a premium phone, but it also boasts of an attractive AMOLED panel that incorporates a fingerprint scanner on the front. While the camera package of both the phones remains the same, the Oppo K1 makes more noise with its improvised 25MP selfie shooter. The only downside of the smartphone is a lack of RAM variants which we believe Oppo will introduce since various manufacturers have made such improvements months after their products hit the stand.