Only 10 per cent of Indians aged between 15 to 24 years use smartphones at present, much less than China's 29 per cent, according to media research firm Nielsen.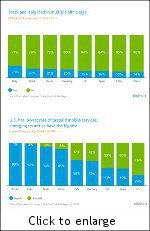 Nielsen conducted a survey among mobile phone using youth (aged between 15 to 24 years) in Brazil, Russia, India, Vietnam, Germany, USA, UK, Spain and Italy.
Smartphone penetration in Italy stands at 47 per cent.
The research revealed some interesting points regarding the choices and preferences of Indians when it comes to mobile phones.
According to the study, 15 per cent of young users in India prefer multiple SIM phones. Multiple SIM devices are most common in countries such as Brazil, Russia and China as well because it helps people take advantage of low tariff rates on different networks.
More men use each different type of phone in almost all countries except the USA, where 65 per cent of smartphone users are female.
Interestingly, 15 per cent of young people talk to their parents before deciding which handset to buy.
The research further adds that about 97 per cent of Indian youth are prepaid mobile users; whereas the trend is reversed in countries such as the UK, USA and Germany, where more people opt for post paid mobile services.
A whopping 84 per cent of Chinese youth using mobiles use these devices for accessing the internet; whereas only 13 per cent of Indian youngsters use mobiles for data services.