OnePlus 5 will be the thinnest flagship smartphone, according to OnePlus CEO Pete Lau recent post on Chinese social media site, Weibo. Further, a new leak poster indicates that the smartphone will be launched on June 15.
According to the translation of the said
post
, Lau believes that the OnePlus 5 is the thinnest flagship smartphone and the brand has not sacrificed other features to make the device slimmer. For your reference, OnePlus 3T is just 7.35mm slim and it would be interesting to see, whether the company could make it slimmer than its predecessor.
Meanwhile, a new leaked poster image on Weibo further strengthens the June 15 launch date of the OnePlus 5. According to the poster, the phone will be launched on June 15th at 15:00 local time. However, there is no way to find out there this one is a real one or a fake.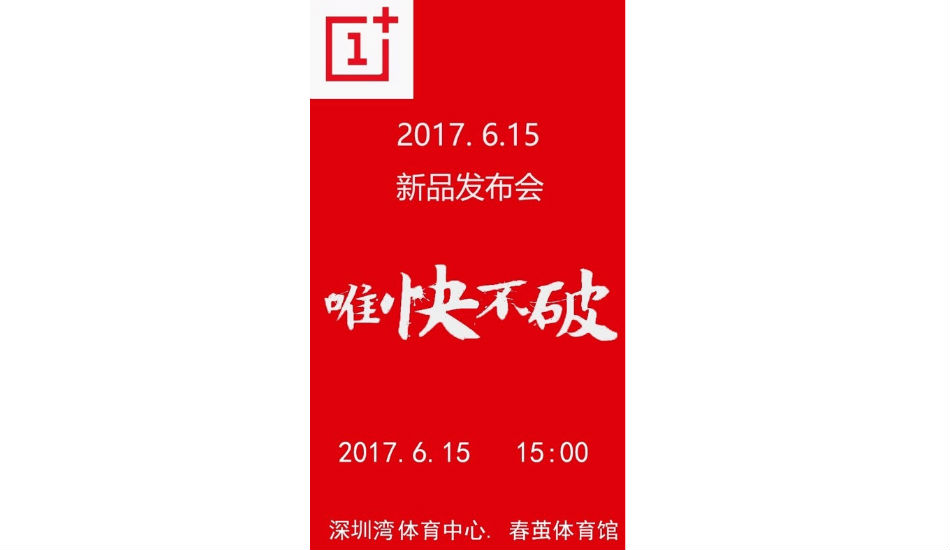 OnePlus is also giving powers to its fans as well. Recently, the brand has posted a
poll
asking users to vote on their preferred OnePlus 5 retail box design. The brand has given eight options which include five white-coloured retail boxes, while the other three are red in colour.
The latest flagship device is turning out to be a pretty interesting piece of instrument. The brand has already confirmed that it will be powered by the latest Qualcomm Snapdragon 835 processor and it has also tied up with DxO to enhance the camera experience on OnePlus 5. For those who are not aware, DxO is brand behind the popular photography benchmarking site, DxOMark. The site recently awarded HTC U11 with the highest rating for a smartphone camera. Earlier, Google Pixel got the highest DxOMark score.
OnePlus is reported to add dual-camera setup on its flagship device but the bone of contention lies in the placement of the cameras. Some reports, including this one, indicates that it will be vertically aligned, but other indicates that it will be aligned horizontally.
Recollecting some previous leaks, OnePlus 5 will run on the latest Android 7.1.1 Nougat and will be powered by the latest Qualcomm Snapdragon 835 processor along with Adreno 540 GPU. The smartphone is reported to boast a Full HD display with a screen resolution of 1080 x 1920 pixels, which contradicts previous rumours predicting a Quad HD display for the upcoming flagship device. The screen size will be of 5.5-inch. The device will be backed by a 6GB of RAM and 64GB of internal storage.
It is also reported that it will come with a bigger 3600 mAh battery (Evan Blass leaked a 4000 mAh non-removable battery). Interestingly, similar to what we saw on OnePlus 3 and 3T, OnePlus is likely to go with a front-facing fingerprint scanner at the front. OnePlus is also expected to introduce the new Dash Charge 2.0.