Vivo Nex S just about got everyone's attention flaunting an all-screen display by integrating an in-screen fingerprint scanner, an under-display earpiece, and a pop-up selfie camera. Oppo's Find X boasts of a larger screen space and an elevating module that has all relevant sensors including a Face ID-like technology.
Smartphone breakthroughs are happening rapidly and if bezel-less displays were anything to get used to, smartphone manufacturers are working continuously to bring us closer to the idea of a truly bezel-less display. Enter, the Oppo Find X and Vivo NEX; two of the most exciting recent Android devices of 2018, which transform the bezel-less experience of a smartphone to whole new dimension.
Last week, the Vivo Nex just about got everyone's attention flaunting an all-screen display by integrating an in-screen fingerprint scanner, an under-display earpiece, and a pop-up selfie camera to move all the important sensors elsewhere so as to gain the maximum screen. If that took you a week to sink in the feeling about future smartphones, brace yourself for the Oppo Find X, which not only boasts of a larger screen space but also a top module that elevates and consists of all the relevant sensors including a Face ID-like technology.
Advertisement
With an aim to achieve the largest screen space, we're here to identify where the BBK siblings have struck their similarities while distinguishing how these devices differ in their ways of cramming in features. Let's take a look.
Design & Display:
Vivo NEX S
Upon its launch a week ago, the mass-produced model of the Vivo Apex concept smartphone came with a pop-up camera that moved like a periscope out from the top edge. The Vivo Nex S comes with a 6.59-inch FHD+ Super AMOLED panel with a resolution of 1,080 x 2,316 pixels and a tall aspect ratio of 19.3:9. The OLED panel with deep blacks and vivid colors offers the second largest screen-to-body ratio of 91.24 percent and 338 pixels for inch.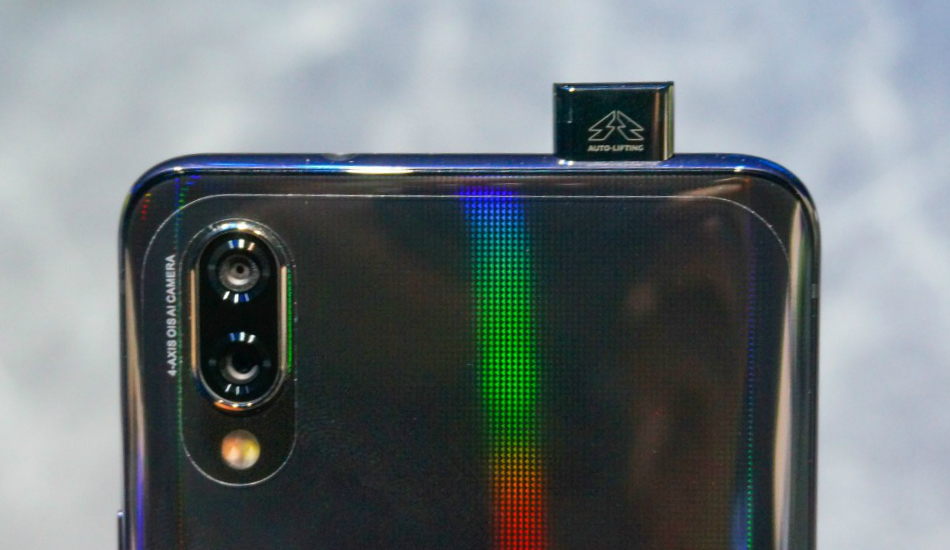 While the sensors on the front find it replaced in an all-new fashion with a pop-up selfie camera and Screen SoundCasting technology in place of an earpiece, the back of the device is another breathtaking feature. The glass back refracts light in its seven different components with the help of a diffracting pattern that's embedded right under the glass, creating a rainbow-ish effect in normal lighting.
Oppo Find X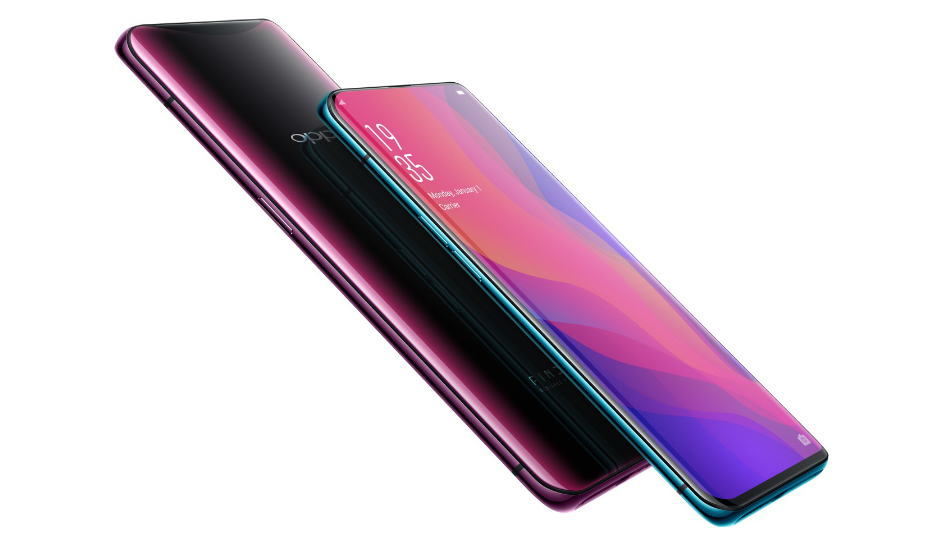 Coming to terms with the newest stud in town, the Oppo Find X is a beaut to look at. With a smaller bottom chin than the one on the Vivo Nex, the Find X straight up wins the 'largest screen space' title. Oppo claims that the Find X features a 93.8 percent screen-to-body ratio, the first smartphone to achieve the feat. The Find X has done so by employing an elevating module at the top which boasts of the numerous sensors on the front and the dual camera setup at the back, which is hidden in normal conditions.
Just look at the transition from software to mechanical movement at the top and you'll see the thing of "Whoa" that this phone is. If the full-screen 6.42-inch AMOLED FHD+ display with a resolution of 1,080 x 2,340 pixels, without a notch, doesn't inspire you, twist it over. The Find X on its release will be available in two variants - Bordeaux Red and Glacier Blue; both distinctive in itself with a fading dragnet of purple and teal on the sides of the read panel. The back panel is clean and only has the Oppo and Find X branding on it, due to the fact that the rear cameras are tucked in with the mechanical module at the top.
Winner: Oppo Find X
Hardware:
Both the Find X and Nex S comes powered by the flagship Qualcomm Snapdragon 845 chipset with Adreno 630 GPU, 8GB of RAM and up to 256GB of internal memory. With so much of storage available internally, neither Oppo nor Vivo has offered a micro SD card slot with their flagships. While both devices are the same in the connectivity front offering Bluetooth 5.0 LE, USB Type C port for data and charging, WiFi and GPS, it's the Find X which makes room for an additional NFC chip.
Winner: Oppo Find X, by whiskers!
Biometrics:
Vivo's version of an all-screen device pitched the fingerprint sensor of its smartphone on its displays, which is also what's employed on the Vivo Nex S. The device comes with an in-screen fingerprint scanner which scans your finger from within the display and is in its third generation currently. While the optical sensor at the bottom of the device detects and verifies a fingerprint precisely, it can only be used when a device's screen is lit or the whole device is lifted off a surface.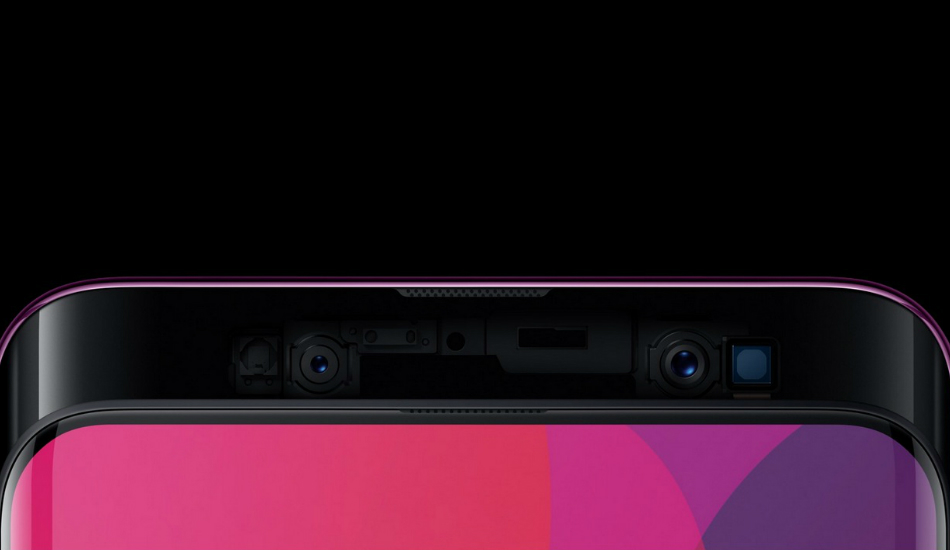 In this aspect, Oppo has clearly pulled the Android version of the iPhone X with the perfect alteration to Apple's 3D unlock features. The slider module that Oppo has packed at the top has a 25-megapixel front camera with a dot projector, a ranging sensor, an infrared sensor and a flood illuminator, all of which combined gives a breathtaking 3D recognition authentication for your phone. That combined with the software tricks that smoothen out the physical movement of the slider module makes it a beauty to watch. The O-Face recognition as Oppo likes to call it will work on any lighting condition and will even be able to detect a face among a million people.
Winner: Oppo Find X
Software & Battery:
Both the Vivo Nex S and Oppo Find X come running the latest Android 8.1 Oreo with heavily skinned FunTouch OS 4 and ColorOS 5.1 on top the respective devices. For a layperson, both these operating systems are inspired by the iOS and have a steep learning curve to get through, since a stock Android version is always the one that people would prefer.
What these two phones differ slightly is in the battery and charging mechanisms. While the Oppo device comes with a 3,730mAh battery with VOOC Fast Charging, the Vivo smartphone comes with a larger 4,000mAh power unit which is charged by a faster 22W charger. Thus the Nex S not only lasts more in terms of battery but also charges significantly faster than the Oppo Find X.
Winner: Vivo Nex S
Camera: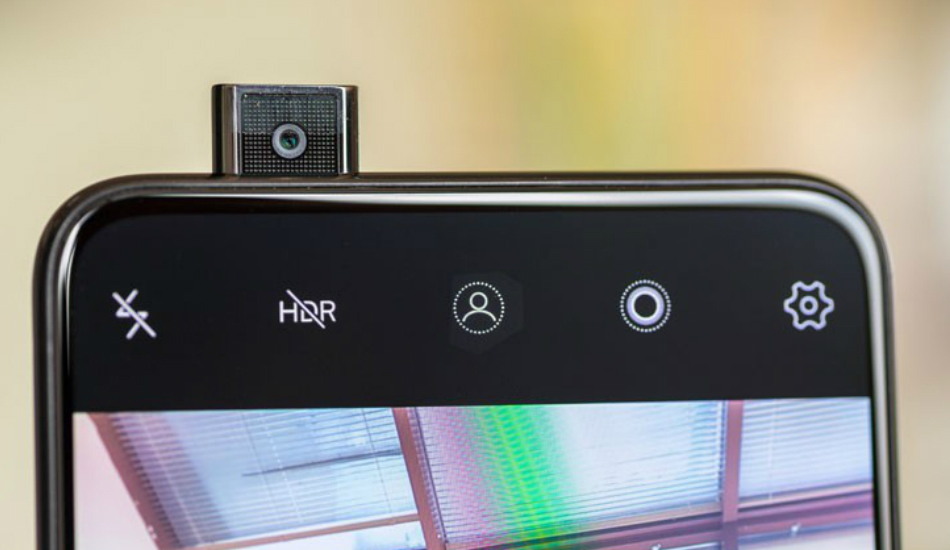 The Vivo Nex S sports a dual 12 MP (f/1.8, 1/2.5", 1.4µm, Dual Pixel PDAF) + 5 MP (f/2.4) sensors with 4-axis Optical image stabilization, phase detection autofocus, and dual-LED dual-tone flash. These sensors are then powered by AI which develops imaging with the help of AI portrait shots and scene detection. The front-facing selfie camera, albeit a powerful one packs a small 8MP pop-up unit with an aperture of f/2.0, which opens up only when switching to the front camera inside the camera app.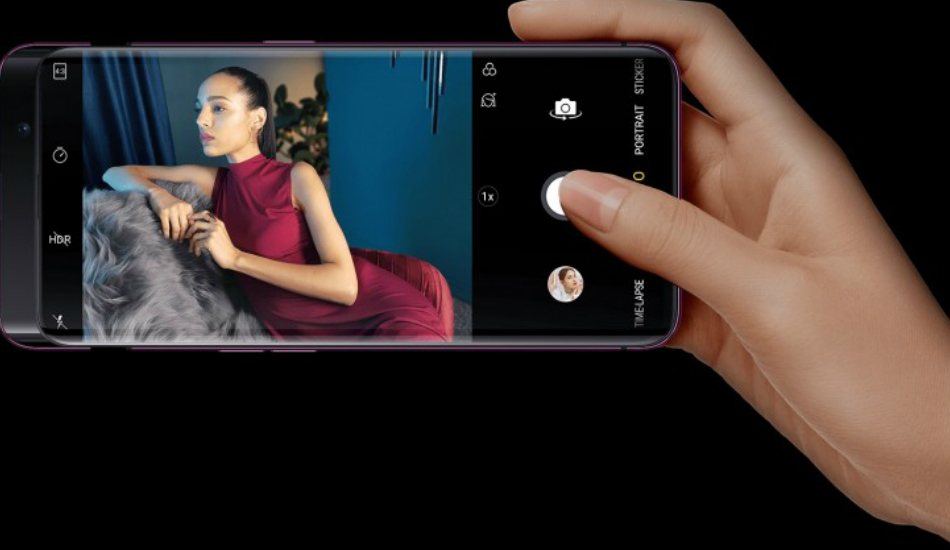 Rubbing it on Vivo's face is Oppo's camera setup on the Find X, which when not tucked under the back panel makes way for dual 16 MP (f/2.0) + 20 MP (f/2.2) cameras with optical image stabilization, phase detection autofocus, and dual-LED dual-tone flash. The rear cameras can capture good portrait shots and comes with AI scene recognition as well as AR stickers, just like the ones on the Galaxy S9. The Find X also doesn't compensate on front sensors as it packs a 25MP selfie camera which along with the Face ID-like authentication also equips Ai beatification and 3D emojis like Apple's Animojis.
Winner: Oppo Find X
Verdict:
For a price of 4,998 yuan (approx. Rs 52,600), the 256GB variant of the Vivo Nex S features a futuristic design with a breathtaking all-screen display on the front and flagship specifications which in overall is still way cheaper than Apple's or Samsung's high-end devices. The chipset is powerful, there is an in-screen fingerprint scanner and a pop-up camera for added coolness, all of which makes the Nex S, a device future phones can look forward to.
The Oppo Find X might be a tad bit costlier than the Vivo Nex S as it comes in at an asking price of 999 Euros (approx. Rs 79,000). But in that price difference, Oppo packs in the industry's best 3D face recognition technology, the best bezel-less display there is out there and cameras that beat the Vivo Nex S left, right and center. The Find X also comes with the top-of-the-line specifications, a larger battery with faster charging, all of which is housed under a gorgeous gradient style glass back, showing the true-ness of a flagship and leading the way for future smartphones.