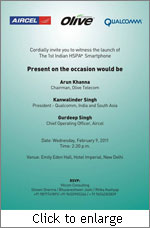 Olive Telecom is all set to becoming the first Indian handset manufacturers to launch HSPA+ (Enhanced High-Speed Packet Access) smartphone on 9th February.
The smartphone from Olive is likely to have the latest version of Android operating system (Android 2.3) and will support downlink speeds of up to 14 Mb/s. This speed allows users to download a 400Mb feature-length movie within thirty seconds.
Faster data speeds on HSPA+ handset can definitely improve the mobile web experience for smartphone owners, but only if it is backed up by a robust network which has to be provided by the service provider.
The handset is likely to be offered bundled with an Aircel connection and customers can expect attractive data plans from the service provider.