Maxx Mobiles has introduced a full touch-screen projector phone &#151 the Maxx Focus (MTP9). Spice and Intex had already launched their own projector phones in the past as well.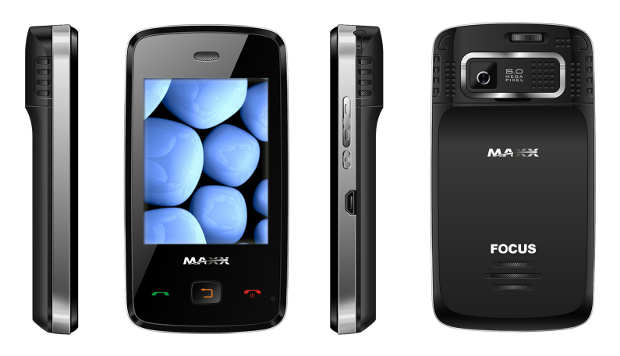 The Maxx Focus features an in-built projector along with a 5 megapixel camera, 2.8 inch screen, 208 MHz processor, and even a free projector stand. It has preinstalled King Movie Player application that compresses the actual video size to 1/10th without compromising on quality, allowing users to enjoy full length movie/video. The handset supports MP4 as well as 3GPP formats and comes with 1 GB flash memory.
Focus MTP9's 1200 mAh battery is expected to provide enough juice for the phone to let it run a whole day. Maxx Focus is priced at Rs 6,999.
Talking about the new Maxx Focus, Ajjay Agarwal, chairman and managing director, Maxx Group said, "With the Maxx Focus MTP9, we are introducing new features that include the in-built projector and a touchscreen. We believe in the concept of 'entertainment mobility' and have therefore ensured our users experience the best in both visual and audio with our wide range of applications and features."
The phone is Java-enabled and its Opera Mini application provides on-the-go browsing. The handset comes with a variety of applications such as Facebook, Twitter and Yahoo! Launcher, Nimbuzz (an instant messenger that supports MSN, Yahoo, Skype) and more. The MAXX Focus MTP9 is also equipped with four active screens and widgets making it convenient for users to browse through recent applications on the phone. This option empowers users to choose from a range of live wallpapers.
Available in black with silver colour, the Maxx Focus MTP9 is powered with 1200 mAh battery that provides longer battery life. The phone provides sharing and connectivity functions such as Bluetooth and USB. It also includes dual SIM GSM support and MMS/WAP/GPRS. With free 4 GB memory card, an expandable memory of up to 8 GB and preloaded audio/video content, the phone will woo the music enthusiasts featuring loud speakers.
The phone also supports MP3/WAV/AAC/AMR/MIDI formats for an audio player. It also includes wire-free FM Radio with FM scheduling.