Impressed by the advanced gaming capabilities of Sony Ericsson Xperia Play?
Then Gametel's controller is for you. The company has announced a gamepad for smartphones with which users can get Xperia Play-like gaming controls and capabilities. Gaming on smartphones has picked up really well but there's nothing like a traditional-type controller. This is where the Gametel Bluetooth controller comes in. It gives physical controls to the smartphone and they are quite similar to the ones on Xperia Play.
This device comprises a Bluetooth based gaming controller with a spring mounted bracket that is placed to hold the phone in place. There is a separate application also developed to be used with this controller. This application actually translates the actions of the controller to movements in the game. All you need to do is mount the phone in the cradle and turn on the application, and you can play the game with full joystick action.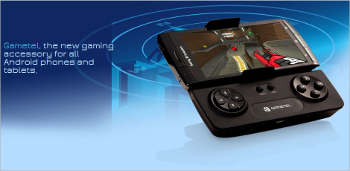 The Gametel joystick has been announced in the market but its availability will begin from next month onwards. Although the list of countries where this device will be available has not been revealed we hope that India will also be on the list.
The price of the Gametel joystick will be priced above $50 or about Rs 2,500. The joystick will feature an inbuilt battery pack capable of powering it for up to 9 hours of thumb crunching mayhem.