After getting rid of invite system, OnePlus has now joined hands with Ola to sell its OnePlus X. Now you don't even have to order it through e-retail sites or hunt for an invite to get the device. All you have to do is to book a cab from Ola and you will get your brand new OnePlus X delivered at your door step.
"This Tuesday will be the first time ever that you can buy the much coveted OnePlus X phone with the same ease and speed as you collect your morning newspaper. From your doorstep and at your comfort. No waiting period. No stalking friends for the elusive invite. All you need is the Ola app, and a taste for finer things," OnePlus said in a statement.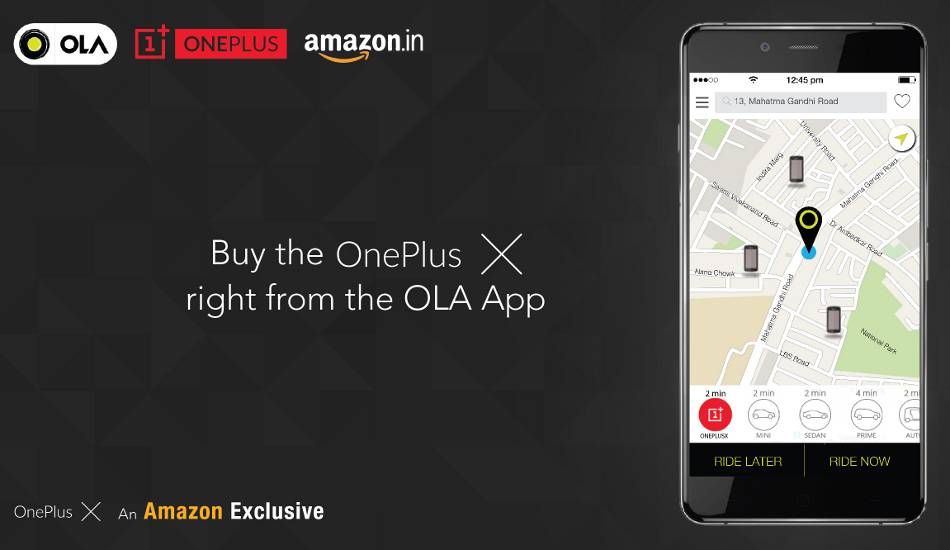 Booking for the OnePlus X through this method is quite easy. Just open the Ola App on Tuesday (December 8), between 10 am- 7 pm. Select the 'ONEPLUSX' icon, hit RIDE NOW and confirm.
"A cab will drive up to your location with a brand new OnePlusX. You can make the payment of Rs 16,999 through card or cash. And walk away with your device," OnePlus further added.
The facility is available in Bangalore, Mumbai, Delhi-NCR, Hyderabad, Ahmedabad, Kolkata and Pune and subject to availability. Also only one booking per customer is allowed.
Earlier in August this year, OnePlus had adopted a similar strategy to sell its OnePlus 2. Then OnePlus was offering Ola cab users to experience the OnePlus 2 smartphone.