Nokia and Microsoft will produce smartphones at more price points than other smartphone brands do. The two companies have announced a partnership wherein Nokia will use Windows 7 operating system as the only smartphone platform.
Steve Balmer, the chief executive officer of Microsoft, said on Nokia's blog, "Together we will reach more price points than any other smartphone platform."
This means that Nokia Windows 7 phones will be available at less than Rs 10,000 in the Indian market, since there are Android phones that cost much below this price.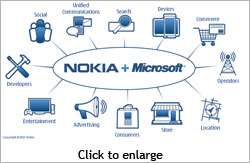 Steven Elop, the chief executive officer of Nokia, said, "Nokia will use several services that Microsoft today offers including search and advertising, apart from the Windows platform, and we will also work towards adding features to Windows 7 platform."
He further added, "We will continue to invest in research to create the next disruption." He was referring to services that will have the potential to create new markets in future.
Engadget too has revealed what it claims is the Nokia Windows 7 concept. If these are signs of things to come, the future certainly looks exciting. It also means that both the companies have already spent significant time on the products of the partnership.