Nokia today announced the launch of two budget mobile phones in India. The Nokia 101 is a dual SIM music phone while Nokia 100 has slot for a SIM card.
Nokia 101
With its dual SIM capability, the phone makes it convenient for consumers to access calls and texts over two different networks. Additionally, consumers can stay entertained with the integrated MP3 player, FM radio, a 103 phon loudspeaker and carry their entire music collection in the 16 GB expandable memory.
The Nokia SIM manager allows users to select which SIM card to use to make a call or send a text message while helping them manage costs and maintain network coverage without needing several phones. In addition, the SIM manager allows users to store settings of up to five SIM cards on the phone, and to personalise them by assigning names and logos for each SIM setting.
The Nokia 101 will be available in India in the next few weeks at Rs 1,699. The phone will come in Black and Red colours.
Nokia 100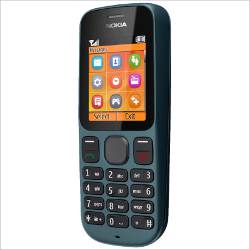 The Nokia 100 is perfect for people looking for durability and simplicity as well as affordability when making calls and sending text messages.
Priced at Rs 1,399, the Nokia 100 comes with a colour display and grid-based menu system with fun and easy-to-read icons. Furthermore, the Nokia 100 features an FM radio.
Both the Nokia 101 and Nokia 100 offer Nokia Life Tools and Nokia Money in India, providing instant access to locally-relevant information on healthcare, education, agriculture and entertainment.
It will be available in India starting October.
"When paired with powerful and locally relevant services such as Nokia Life Tools and Nokia Money, the Nokia 101 and Nokia 100 offer a unique experience that is simply unmatched in India at these price points," commented V Ramnath, director, sales Nokia India while announcing the launch.
The company is also offering these handsets with bundled plans of Airtel which is giving 100 minutes of free Airtel to Airtel talktime for the first month with Nokia 100 and 101. As part of this Airtel offer, customers will also get 400 national and local SMS free every month. Customers subscribing to this Airtel offer may continue to avail its benefits in the second month with a minimum recharge.