Global mobile phone giant Nokia has announced the roll out of the PR v1.2 update for Nokia Lumia 800 and Lumia 710 devices in India. This update aims at fixing some of the known issues with the devices while bringing better functional and performance as well.
Nokia India made the announcement of the roll out thorough its official Facebook page making the update available to Lumia device users through the Zune software as well as through its network of service centers spread across the country. Users can simply walk in to any of the service centers and ask the representative to upgrade their device to the latest software free of cost.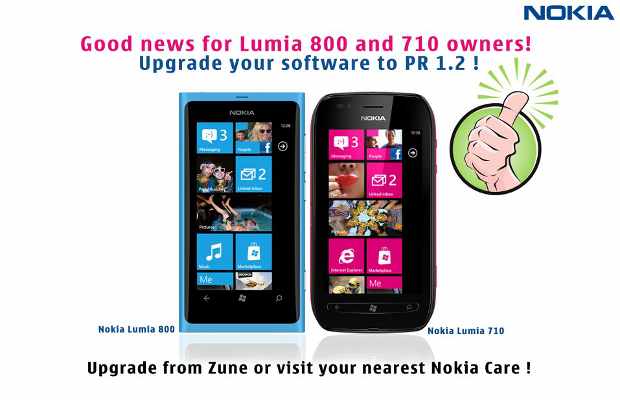 In this upgrade Nokia has included update regarding the performance and usability of the device. Overall, users can upgrade their device's software to PR 1.2 to get enhanced battery life which earlier many users had complained about. Along with that audio performance including hands free communications of the devices has also been improved.
Although its not mentioned in the announcement, the update release also answers some problems with the Lumia 710 device like the calls not getting disconnected, a bug that was discovered and reported by multiple users across globe.