Handset major Nokia announced the launch of the latest handset under its X series called X2. The handset is designed for music lovers and comes with dedicated music keys, a Headphone jack and FM radio with built-in antenna. The device also has a 5 megapixel camera with flash.
Considering the features, the handset is affordably priced at an equivalent of Euros 85 (about Rs 5,000). Its other features include Nokia Messaging for email and IM and access to Facebook from its home screen.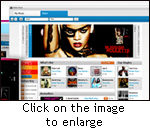 An interesting addition is the Ovi Music Unlimited (OMU) service, which debuts with the Nokia X2 handset. This service allows users to access and download songs free for a year from a database of 4 million legal digital tracks at the Nokia music store.
Consumers who buy a Nokia Ovi Music Unlimited enabled device will be able to download songs to their mobiles or PC. Ovi Music Unlimited will be available on Nokia X6, 5800 Xpress Music, 5530, 5235 and 5130.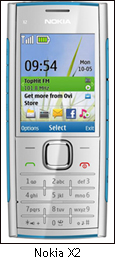 The tracks will be DRM protected but can be transferred between users of the service via Bluetooth.
The service also offers full metadata and the ability to search for tracks by the name of the actor, actress or movie, other than song title, artiste's name etc.
New songs by major labels will also be available on Ovi Music Unlimited, when it is released in India. The service will include catalogues from major global labels Universal Music Group, Sony Music Entertainment, Warner Music Group and EMI Music. Nokia's local partnership with the Indian Music Industry (IMI) brings a consortium of more than 150 music companies: Hungama that represents major labels including Yash Raj, Tseries, Eros; and SIMCA (South Indian Music Companies Association), amongst others.
The much awaited OMU service's localised version offers tracks from local and international artists across 19 genres including rock, rap, hip hop, pop, bollywood, sufi, indipop, Indian classical, devotional, ghazals, Malayalam, Tamil, Gujarati, Bengali, Punjabi and Bhojpuri.
Elizabeth Schimel, global head of music and connected entertainment, Nokia, said in a press statement, "India is the 30th market to launch our unlimited music download service, and follows recent launches in China and Indonesia. The service adds further scale, evolution and differentiation to our global music services."