If you thought that the Nokia music series phones cost a lot then you might want to reconsider that statement. Nokia's latest X1-00 mobile phone is one of the cheapest music phones at present. And not just the cheapest but the loudest as well with its loudspeaker which is rated at 106 phon (a unit of perceived loudness of sound).
The phone has been priced at 34 Euros or Rs 2,200 internationally but the actual cost will definitely vary depending on the local levies and taxes.
It features a stylish and classy two tone color body: yellow and blue with a black colored rear. Besides, it features a multi format audio player with dedicated media keys on the side of the phone and an astounding 16GB expandable memory.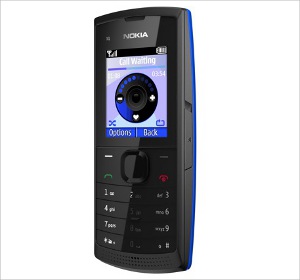 A 3.5mm jack for audio connectivity is a welcome inclusion and not to forget the loudspeaker that sits at the back of this phone rated at 106 phon, loud enough for a group of people, but it delivers perfect sound even at higher volume levels, claims Nokia. The only thing missing is a camera but what else can you expect at this price.
The surprise factor is its battery life which Nokia claims to be 61 days' worth of standby time or 13 hours of talktime or up to 38 hours of music playback through the headphones. It may vary while using the loud speaker.
The company aims to ship it to the selected markets by April 2011, although the availability details for India are still unknown.