Most of the artists in India especially from rural areas don't make it to the big league for lack of a platform. Nokia in association with Peninsula Studios and Universal Music has come together to provide a platform to artists to showcase their talent to the world.
Nokia Music Theatre is the name of the project through which Nokia in association with its partners handpicked 17 musical talents from small towns and villages of Rajasthan from more than 700 artists who precipitated in the talent search project.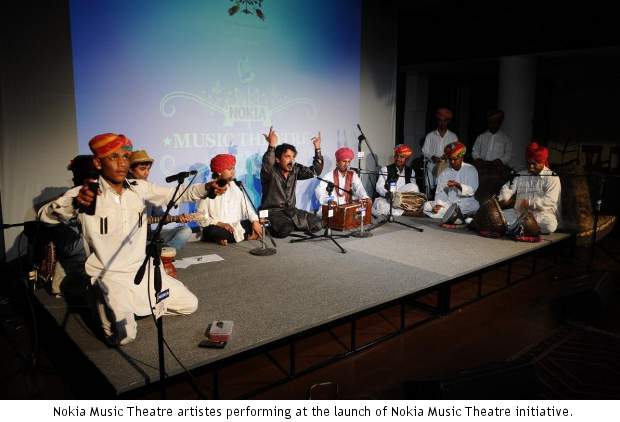 The project has culminated with the launch of the music album "Asha – discovery of the Peninsula." Nokia users can download this album from Nokia Music store.

"The problem with budding musicians in India is that they don't get a platform to showcase their talent and we have addressed that issue through mobile platform – Nokia Music store," said Viral Oza, marketing director of Nokia India, to The Mobile Indian.
He added, "Our next halt to identify budding musician will be Uttar Pradesh and we may even host concerts for the shortlisted musical talent from Rajasthan."
This is not the first initiative of Nokia in the world of music as its already has musical legacy -Nokia Music Store, the largest repository of legal and digital Indian music, that offers DRM (digital right management) free music to Nokia handset owners.
Devraj Sanyal, managing director, Universal Music India and SAARC said, "In today's scenario best medium to reach out music lovers to showcase fresh and untapped music talent is the mobile device."
He added, "Nokia is already taking the initiative forward through its Nokia Music Theater and in we are also in talks with telecos like Airtel, Vodafone and Idea to provide impetus to movement to bring forward budding music talent across India who otherwise fail to make it to the big league."
The 17 artistes selected from the auditions of about 700 musicians representing a diverse array of alternative genres of music from folk, classical, spiritual, tribal, sufi, thumri, khayal to instrumental, were mentored by some of the heavyweights in the music industry including Shuzaat Khan, Zeb and Haniya among others.
The Peninsula Studios role in the partnership to act like a center, which will curate music, facilitate content creation and mentor talent to present the Nokia Music Theatre. It will also, provide artistes with the opportunity to interact with other artistes and the unique experience of recording in a studio in front of a live audience.
Sita Raina, chief operating officer, Peninsula Studios, said, "Nurturing diversity in music and reviving forms of music on the brink of extinction is our vision. Nokia is an ideal partner in realising this vision because of its own formidable musical legacy and a strong commitment to connecting people to their passions."