Keeping the sentiments of Muslims in mid, an Indian company has now launched a mobile phone offers a complete Holy Qur'an recitation in voice of five famous Quari along with 29 language translation including Urdu, English, Bengali, Malayalam and Tamil.
The ENMAC MQ3500 mobile handset was brought out by TolMol.com, an Indian company.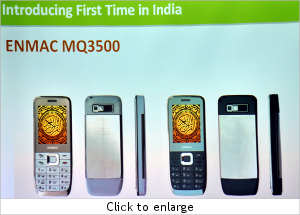 Launching the handset, Anuj Kanish co-founder and chief executive officer, TolMol.com said, "We at TolMol.com attempt to bring something unique for our customers, this time we are delighted to offer for the first time in India a mobile phone that offers complete Holy Qur'an recitation with synchronized Qur'an text translated in major Indian languages. This phone is the perfect device for people desiring anytime, anywhere access to Holy Qur'an &#151 at a price they can afford."
"TolMol.com also has plans to introduce more digital products including Islamic eBook, Pen Quran, and other Qur'an Mobile models," shared Ramna Sharma, co-founder and president, TolMol.com.
When fully charged, the company claims, ENMAC MQ3500 provides talk time of 150 minutes and standby Time of four days. Besides it has slot for 1000 entries in phone book, Call History, SMS, MMS, GPRS and WAP, FM Radio, Image Viewer, video player, voice recorder/player, 2 inch colour TFT LCD screen, and camera.
ENMAC MQ3500 has interface in Arabic, English, Persian, Portuguese, Russian and Turkish as well. The dual SIM handset is priced at Rs 5499 but is available on TolMol website for Rs 2,999.