KeyPoint Technologies, a mobile phone application maker, has released a new keypad called Adaptxt Beta Version 0.9 for Android. It is powered by Predictive Text2.0 technology which is designed to adapt to the user's writing style and allows the user to write more with minimal keystrokes.
According to the company, the app provides highly accurate and relevant text prediction, error-correction and auto-correction inputs by combining the best of artificial intelligence and computing technology.
The latest Adaptxt Beta 0.9 version has been developed to cater to a global and multilingual audience by supporting a notable collection of 50+ languages and various industry specific dictionaries. The Indian languages include Hindi, Urdu, and Marathi.
Adaptxt Beta Version 0.9 has new expandable suggestion bar. The suggested words displayed are restricted to three at any instance; an expandable dropdown suggestion bar is also available to view the extensive suggested word list.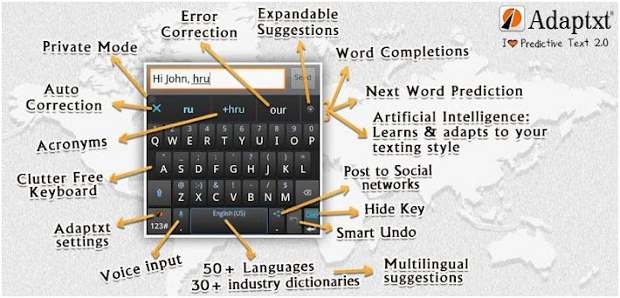 There is also a feature called Automatic Text Replacement (ATR), which allows users to create shortcuts and assigning commonly used text and phrases to it. The abbreviation will be displayed in the suggestion bar preceded by a distinct "+"symbol.
There is also a new security feature called Private text input mode, which prevents Adaptxt from learning crucial data like your PIN, certain names and locations. It can be used by enabling the private mode which will consecutively disable the implicit learning feature until you send the message.
Another feature though not of much use to us Indians is the 'Accents trimmer' as this keyboard app allows non english speakers to use characters like "ç","á","é","í","ó","ú","ñ","ä" etc and counts the letter as just one and not two or more which is normally the case.
Settings of the app is also very simple and has features such as private mode, layouts, settings, remove accents, ATR ON and ATR options have been integrated in a single key.
There is a hide keyboard feature which enables you to hide the regular editor and view the background without any obstruction.
Sumit Goswami, chief executive officer, KeyPoint technologies India said, "We have seen an increasing appetite for text input solutions for Android based smart phones in the recent years. Our latest Adaptxt Beta Version 0.9 will enable us to satisfy this raising demand and eliminate the prevailing gap between user requirement and device capability."
Adaptxt Beta Version 0.9 is currently available from Google Play and Getjar App stores. All the add-ons available on Google Play store for Android users are absolutely free to use for a limited period.