Adobe has released a new CreatePDF app for iPad, iPhone and iPod Touch. Priced at $9.99, the new CreatePDF promises high quality PDF creation on devices running iOS 4.3 or above. The app is already available on the Android platform since May this year.
The new Adobe CreatePDF app touts high quality PDF creation that will make the PDFs look like original files. CreatePDF allows creating PDF files from Microsoft Word, Excel and PowerPoint; Adobe Illustrator, Photoshop and InDesign; Images (JPEG, BMP, PNG, GIF, TIFF), RTF, Text, OpenOffice and Star Office documents.
So how does it actually work?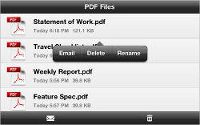 All you have to do is purchase, download and install the CreatePDF app. Then you have to tap on the options and select Share to send the file to the CreatePDF app and then create a PDF file. After converting any file into a PDF you can also email the same document to others.
Adobe CreatePDF is available for iOS 4.3 update running iPhone 3GS, iPhone 4, iPod touch 3rd Gen, iPod touch 4th Gen and iPad tablets.