Luna Ergonomics, a Noida-based software company has created what is known as the Panini keypad. This mobile software is a virtual keypad that works based on statistical predictive texting. The keypad is an application that places characters in a three-by-four grid (mimicking the phone's keypad) and displays them from the top left (most used) to the bottom right (least used). Depending on what a user types, the algorithm predicts the next list of characters in another grid and so on. Using the Panini keypad, users can type in 11 Indian and 9 foreign languages.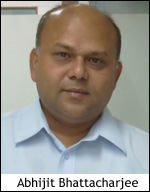 Abhijit Bhattacharjee, founder and product manager, Luna Ergonomics, believes that this product will benefit handset manufacturers and operators alike. He told Telecom Yatra, "It would be a key differentiator in terms of features for handset manufacturers who won't have to clog the keypads with multilingual characters. The biggest beneficiary, however, will be the telecom operators who can generate huge revenues by the use of this application, in the current competitive scenario."
Bhattacharjee further adds, "Today we have so many data applications and other value added services, and all of them make use of typing. However, this is just restricted to English language. SMSs today are restricted to the English language. SMS usage is the most revenue efficient part of an operator's business. An SMS is just 160 bytes. Even if SMS prices drop to 20 paise or 30 paise, it is revenue efficient. With addition of more and more local languages, the prospect of revenue for operators via VAS and SMS usage grows." The mobile marketing field could also receive a boost if more interactivity in local languages had been possible.
The Panini keypad is being sold outside India as Clever Texting, and Luna Ergonomics is in discussion with international operators and handset manufactures for launching the service. Intel and Microsoft have also expressed interest in licensing this product, informs Bhattacharjee. The company will take the software to Korea next month to show to it to handset giants Samsung and LG. The product, says Bhattacharjee, has been recognised and liked by Nokia.
Luna Ergonomics claims to register almost 500 downloads every day for its languages software. The keypad software is currently available for Nokia Java phones. However, work is being done to make it compatible with other mobile platforms as well. Currently the company is working with Qualcomm for the BREW platform.
The company now intends to expand business and is trying to raise venture capital.
After developing applications for foreign languages such as English, Spanish, Portuguese, French, Arabic, Russian, Hebrew, Swahili and Finnish, Bhattacharjee is currently working on developing software for six other languages, including Japanese and Korean. A single language product can take around 2 to 3 months to develop.