Motorola has launched its latest Android 2.3 based smartphones called Fire XT and Fire. While the Fire is a touch and qwerty device, Fire XT is touch only with a bigger screen.
The Motorola FIRE XT, has 3.5-inch display, dual cameras, including a 5 MP auto-focus camera with built-in flash. The Motorola Fire on the other hand has a 2.8 inch touch screen and a full qwerty keypad but a smaller 3 mega pixel camera.
"Smartphones have become an integral, personal part of users' lives &#151 that's why Motorola believes they should be fun, fashionable and feature-packed," said Rajan Chawla, mobile devices business country head-sales and operations, India and South West Asia, Motorola Mobility. "With easy multitasking and contact management, faster and easier interactions, the Motorola Fire XT and Motorola FIRE make for a great mobile experience at a great price for the young, fast-moving users who want everything from a top-quality smartphone."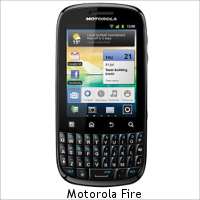 Both the phones support 3G and WiFi with hotspot feature, and come with 2 GB microSD card in box, expandable up to 32GB. Other Android goodies are all included which include support for E-mail (POP3/IMAP4), Enterprise-Class E-mail and MMS, GPS, e-compass, proximity sensor, ambient light sensor, accelerometer.
Apart from having the latest Android version and social network centric widgets, what makes these two phone all the more interesting is the pricing. The Motorola FIRE XT is priced at a best buy of Rs 12,990 (MRP: Rs 13,890) and the Motorola Fire is available at a best buy price of Rs 9,490 (MRP: Rs 9,990).