Yesterday, after a gap of almost two years, Motorola Mobility re-entered the Indian market with its Moto G Android smartphone which comes in two variants – an 8 GB version priced at Rs 12,499 and a 16 GB model for Rs 13,999.
The phone went out of stock within a day (atleast that's what Flipkart said on its website) which would definitely be giving Motorola something to cheer about.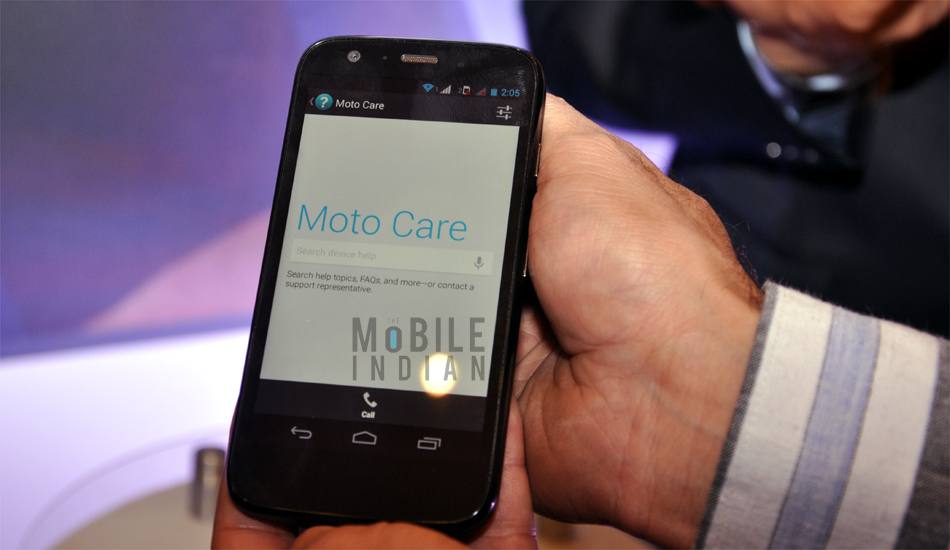 Motorola had shut down its India services in 2012 (though Motorola never admits the same and says it had only temporarily suspended the services) when the Indian mobile phone market was not that competitive as it is today. Now many Chinese handset giants like Gionee and Oppo have entered the Indian market while Indian handset makers like Lava, Micromax, Xolo, Spice, Karbonn etc are coming out with attractive devices, giving a tough competition to MNC brands like Samsung and Nokia.
So does Motorola, which has recently been sold to Lenovo by Google, have the firepower to withstand the tough competition of the Indian handset market?
Marketing Strategy
To start with, Motorola Mobility is making Moto G available exclusively through online shopping portal Flipkart and has no immediate plans of making it available in physical stores.
Magnus Ahlqvist, general manager EMEA and Asia-Pacific, Motorola Mobility said to the Mobile Indian, "This is first time ever that we are launching a product exclusively on an online shopping portal and emphasises our belief that online is the way to go forward for selling products."


Magnus further added, "We have just started selling our smartphones in India after a long gap and we believe that online medium was the best to reach masses in the shortest span of time but that doesn't mean we are ruling out our presence in physical stores. It is just that at present our focus is online shopping portal."
He also said that there are a lot of challenges associated with selling budget smartphones via the online medium, chief among them is that consumers will not be able to physically hold the device which sometimes acts as a stimulant for the purchase.
Ofcourse the e-retail business has grown by multifolds in India recently. Many a device makers have indeed launched their devices first via e-retailers. But the importance of physical stores cannot be discarded. For instance, Spice last year came out with Android Land – a chain of retail stores where users could come and test the handsets before buying. Similarly, BlackBerry has set up experience zones in various parts of the country. Microsoft, ZTE and many other companies too have also planned or are establishing experience zones as well. With Lenovo as parent company, which too is just trying to get its foothold in the Indian mobile phone market, Motorola has some hope but it needs to act fast to make a mark in one of the most contested mobile phone market of the world.
Service Support
Motorola as of now as tied up with third part companies who specialise in customer services. Apart from that Moto G smartphones comes preloaded with a Moto Care app that can provide online assistance to consumers in they face any issue with the device. One can also make a call to Motorola customer care executive using this app by pressing a button.


Flipkart on the other hand is providing a 30- day's replacement warranty on Moto G if a consumer encounters any manufacturing defect.
Note that Motorla has also announced Android KitKat update for the Moto G within a week of its launch in the country. Such support would definitely up its value and customer's faith in the brand, which is perhaps not that good at this moment. Many still doubt Motorola's commitment to the Indian market as the company has once ditched it.
Future Strategy
Magnus said that India is a very important market for Motorola and currently he is focusing on reducing the gap between International and Indian launch of their products.
He said, "Motorola is working to have a gap not more than a month between International and Indian launch of a smartphone."
On future distribution strategy, he said, "Motorola smartphones will definitely be made available in physical stores and company owned stores in future but right now there is no concrete plans for the same and current focus is on online only."
Our Take
Motorola's latest launch in India – the Moto G – is a good product and that too at an attractive price. But the issue is that India is still not a developed online shopping market and all the consumers who are looking to buy a new phone may not go to a shopping portal to make their purchase.
Also, as a result of its partnership with Flipkart, Motorola has given just one buying option to a consumer which is sort of a walled gardened approach at a time when all the competitors of Motorola are selling their products via multiple online shopping portals and physical stores.
Motorola spokesperson also didn't throw much light on the customer services apart from the Moto Care app. But to use that app one needs an active data connection and if the user encounter a problem with connectivity the app is useless. Only solace at that time will be one can make a call to customers care executive using the app but again we don't have information about whether it is premium number or toll free number.
If the current distribution and service strategy of Motorola is a long term strategy then in our opinion it is going to be an uphill task for the company to make an impression or grab consumers mind share. Let's hope is this is just a short term strategy of Motorola before they make their presence felt across the country with more buying and after sales option for a consumers.