Motorola has filed a patent for making an electronic tattoo on the human skin that will act as transceiver for mobile phones. Basically the phone's receiver and microphone is tattoo-ed on the skin so that user can use it as wearable gadget to be used with mobile phone and tablets. Engadget spotted the Motorola patent – Coupling An Electronic Skin Tattoo To A Mobile Communication Device.
The Motorola patent takes the wearable electronics to the next level and reminds us of the several futuristic science-fiction movies. The new Motorola patent describes inking an "electronic tattoo" on the neck of a user. This tattoo will have transceiver and microphone to transmit the information via Bluetooth, Zigbee or NFC connection. The electronic tattoo basically detects the skin response.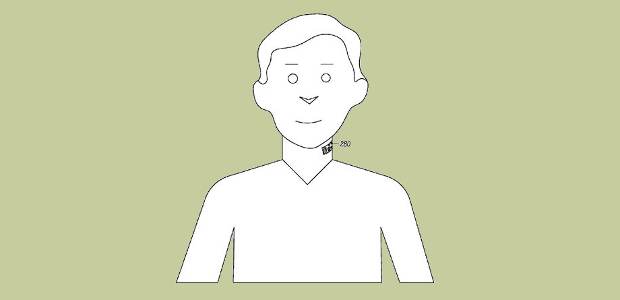 The tattoo basically captures vibrations and sound directly from the user's throat, also eliminates the background noise for clearer voice calls. The electronic tattoo also has electronic power built-in to transmit the audio to the smartphone or other mobile device. The electronic tattoo can also measure electronic conductance of the skin and can also have a display along user interface for feeding commands.
While the SmartWatches as wearable gadgets are just settling in, the electronic tattoo is long way from turning into reality. Google acquired Motorola and both have introduced innovative smartphone concept – Project Ara, a modular smartphone.
Google Glass coupled with electronic tattoo and SmartWatch can work seamlessly for a user to deliver all the notifications, engage in video-voice calls and more. As of now, there is no clarity on the commercial viability of this electronic tattoo on skin.