Motorola has recently added a new member to its Z-series with the launch of Moto Z2 Force smartphone in India. The smartphone comes with a price tag of Rs 34,999. Here we have compared Moto Z2 Force with a popular smartphone – OnePlus 5T, everyone's favourite flagship challenger, that is currently retailing in India at Rs 32,999 for its 6GB RAM and 64GB internal storage variant.
Here we have compared the two phones on the basis of their features and specification only, and after reading this we are pretty sure you can make an informed decision.
Design and Display
OnePlus 5T is pretty sleek and lightweight, which makes it easier to use it. The phone comes loaded with some minimal bezels around the edges, which catches up with what goes for the new 'premium' look. Fortunately, we have also reviewed the OnePlus 5T, which you can read here. On the other hand, the Moto Z2 Force is also sleek and gives premium look. It features a flat back with a circular camera bump. The Z2 Force is considerably thinner (by 1.2mm) and lighter (by 19 grams) than the OnePlus 5T. Also, a smaller display screen size gives an edge to operate the phone using a single hand.
Moto Z2 Force features a 5.5-inch Quad HD POLED display with a screen resolution of 2560 x 1440 pixels while the OnePlus5T features the new 18:9 display, which is effectively the new industry standard. It bears a 6.01-inch Full Optic AMOLED display with a screen resolution 2160 x 1080 pixels with an aspect ratio of 18:9. The bezel-less design gives OnePlus 5T an edge over the Moto Z2 Force.
You might like this
The major highlight of the Moto Z2 smartphone is the ShatterShield display, which shd be a great help on such a premium phone. The phone is made from 7000 series aluminium and is just 6.1mm thick. It weighs just 143 grams. So built wise, Moto Z2 Force clearly steals a march on the OnePlus 5T. So, if you are among the people who have a record of dropping' your handsets with unfortunate results, the Moto Z2 should please you. Plus Moto Z2 smartphone also comes bundled with the Moto TurboPower Mod. There are plenty of other Mods to choose from as well including JBL SoundBoost 2 speaker Mod and Moto GamePad Mod.
Processor and Software
In Moto Z2 Force, under the hood, you will find the latest octa-core Qualcomm Snapdragon 835 mobile platform which is clocked at 2.35GHz. The phone is backed by a 6GB of RAM and 64GB of internal storage, which can be further expanded up to 2TB via microSD card. Whereas, OnePlus 5T has 6 GB and 8 GB RAM variants – both of which also come with the powerful Snapdragon 835 processor. Since both the smartphones run on the same Qualcomm Snapdragon 835 SoC and have the same RAM as well, no winners on the processor at least. It is worth noting that OnePlus 5T also comes in with an extra variant of 8GB and 128GB storage variant. So if anyone wants to go for more memory space, OnePlus 5T 8GB RAM variant can be the next option to go for. We are not giving the Moto Ze any marks for the expandable storage to 2 TB, as it will be impractical for the overwhelming majoity of users.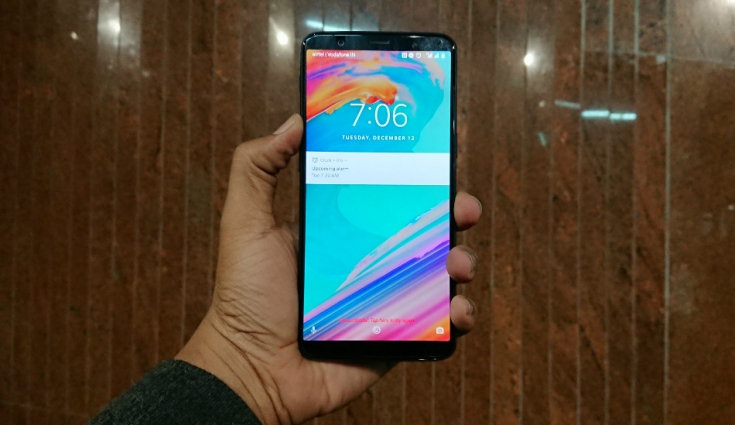 Moto Z2 Force runs on a near stock Android 8.0 Oreo, and the OnePlus 5T runs company's custom Oxygen OS based on the same version of Android. While a lot of users may prefer the benefits of Oxygen OS, the near-stock OS in Moto Z2 Force continues with a proven llegacy of users preferring stock Android over any custom interface.
Camera
Both the phones come with a dual rear camera set up. In OnePlus 5T there is a 16+20 megapixel camera set up. The primary 16 MP camera has Sony IMX 398 sensor that has f1.7 aperture. The secondary 20 MP camera offers Sony IMX 376K sensor and f1.7 aperture.
The Moto Z2 Force smartphone bears a dual-camera setup, which comes with a combination of 12-megapixel sensors with enhanced depth of field for creating a bokeh effect. The sensors come with aperture ƒ/2.0, 1.25um, depth detection and depth effects, zero shutter lag (ZSL), phase detection autofocus (PDAF), laser autofocus, closed-loop actuator and colour correlated temperature (CCT) dual led flash. The device can capture 4K videos at 30fps. For the front, there is a 5-megapixel camera with aperture f/2.2, wide angle lens, flash and auto night mode.
We have already done the review of OnePlus 5T and found out photos in low light were not too exciting. However, it takes some good photos in broad daylight with photos coming out to be crisp and well-detailed. So definitely an average rating for the camera. Though we haven't reviewed Moto Z2 Force, we hope it offers good camera output, if not better results than the OnePlus 5T. For low lighting, Moto Z2 Force seems to have a slight edge over the OnePlus handset owing to its two LED flash lights for the front camera to assist in low-light selfies.
Battery and Connectivity
Battery life has become one of the most looked after aspects while buying a smartphone. The Moto Z2 Force is backed by a 2730mAh battery, which is accompanied by a 15W TurboPower charger. Quite frankly, that is dissapointing, and will worry most heavy users. The phone also houses a fingerprint sensor, which also supports gesture features as well.
OnePlus 5T sports a 3,300mAh battery, which comfortably lasts a day under normal usage. It comes with Dash charge, so you don't really have to worry about the battery, as long as you are close to a power socket. While zero to full takes about one and half hours, a 15-30 minute charge gives you enough battery life to take away any battery dying anxiety.
OnePlus 5T is certainly taking up all the attention here with a better battery life and dash charger. Connectivity options are almost same on both the devices with WiFi 802.11 a/b/g/n/ac, Bluetooth, GPS, and USB Type-C. So not much thinking here.
Wrapping Up
Now it's time to decide which one is worth your hard-earned money. This is quite a close contest. The two devices have a price difference of Rs 2,000 and are distinctly diffrent looking but in other areas, they look quite the same.
OnePlus 5T has a better camera and a better display than Moto Z2 Force. The Turbopower Mod and Shatterproof display obviously give an edge over OnePlus 5T to the Moto Z2. However in our view, the flagship challenger has withstood the challenge here. The One Plus 5T still wins. So a lot depends on your personal choice and the usage you want to extract from the device. But irrespective of your choice a great smartphone experience is quite certain with either of these handsets.