Lenovo-owned Motorola announced during the Mobile World Congress 2017 that it will bring new Moto Mods which include a gamepad mod, charging adaptor, a wireless charging mod, and a turbocharger mod. And if the latest report is believed to be true, then we might have the first glimpse of a new Moto Power Pack Mod and three new style shells.
According to the leaked image posted by hellomotoHK on Google+, the new Moto Power Pack, resemble quite a lot to the one company showed during the trade show. At the base, one can see three LED light, which could denote the charge left on the mod and beneath it is the magnetic pins through which it gets connected to the Moto Z series.
There are also three new Moto Style Shells, which was posted by a Weibo user. The three style mods showa glossy design, which could mean that the mods will be made for either, vinyl, silicone, or even metal.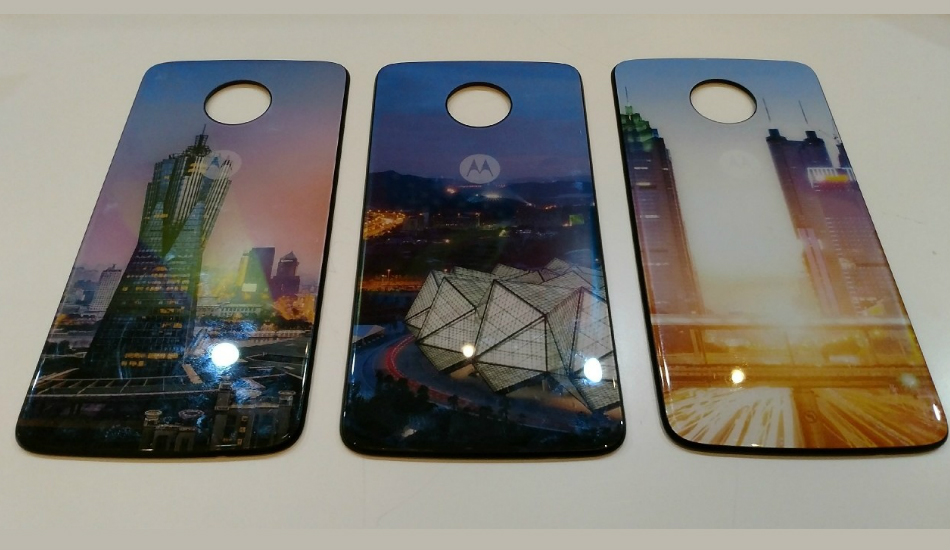 For those who are not aware, Moto Mods are basically the modular accessories which can be connected to Motorola Moto Z series, which include Moto Z and Moto Z Play. Notably, the company unveiled two MotoMods namely, Morphie Juice Pack and Incipio Vehicle Dock in the global market in December last year, but failed to launch these mods in the Indian market till now.
Talking about the Moto Power Pack Mod, the company claims that it can give you additional 50% of power with a slimmer design. Further, it will also come with a special efficiency mode which automatically charges your phone to keep efficiency at its peak. The Moto Power Pack will be available for purchase starting March 2017 for $49 (approx. Rs 3,200).
Not only this, the company also announced that it will be bringing a new Gamepad Moto Mod which will literally turn your smartphone into a mobile gaming console. The Mod will essentially add physical controls and will pack its own battery inside.