Moon+ e-Book reader application has been removed from the Google Play store. The app was one of the popular e-book apps on Android app store as it has features like customisable user interface, support for a wide range of eBook file formats, and an option to sync bookmarks and the last read position across devices using cloud storage service like Dropbox.
According to its developers, Google has removed it from the store for using the Open Publication Distribution System or OPDS which could be potentially utilised for piracy or download of pirated E-Books using the integrated browser. But the Open Publication Distribution System protocol is primarily a format for cataloging eBooks, and it's used by eBook catalogs offering free or public domain works.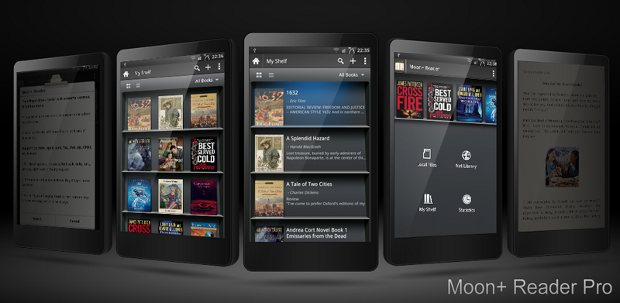 "The reader can access OPDS web sites just like that a web browser can access html web sites with standard protocol, if they think any book site has problem, they should contact the web server provider to stop the services, a web browser can't know if a web site is illegal," said the developer of Moon+.
The removal of the application sounds a bit harsh for the independent developer who has spent 100's of hours shaping the application to perfection. Also the reason given by the developer is also correct that if you have to stop piracy you have to kill the source and not the method.
As of now the application has been removed from the Google Play store and is only available through the developer's website (http://www.moondownload.com/).