RIM is working hard to bring the BlackBerry 10 operating system as soon as possible. While we eagerly wait for RIM to launch the BlackBerry 10 OS, the company's Advertising Agency has been given some mock images of the user interface.
CrackBerry grabbed the pre-release images of the BlackBerry 10 OS from a presentation of RIM's Ad Agency working on future campaigns. We know that these images are mere mock ups but certainly represent some of the new and core improvements in the operating system.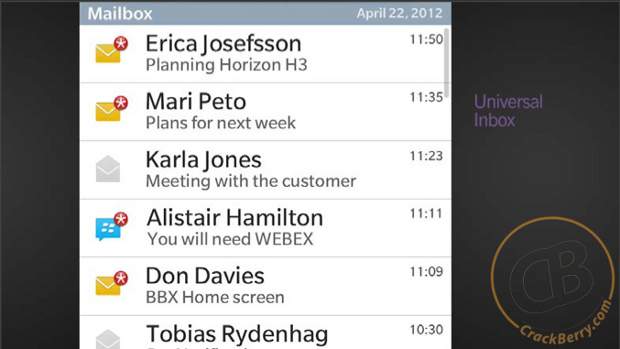 The images obtained from Ad Agencies might just be a mock design or concept art of what the BlackBerry 10 might look like. So take this piece of information as a grain of salt. The images might not be official but certainly hint to the number of features RIM plans to implement in the OS.
From the leaked images, RIM appears of giving in to the widgets and will come with its own set of widgets for the home screen. From the mock up image, the design cues appear to be heavily inspired from the Android OS widgets and the Windows Phone's Live Tiles.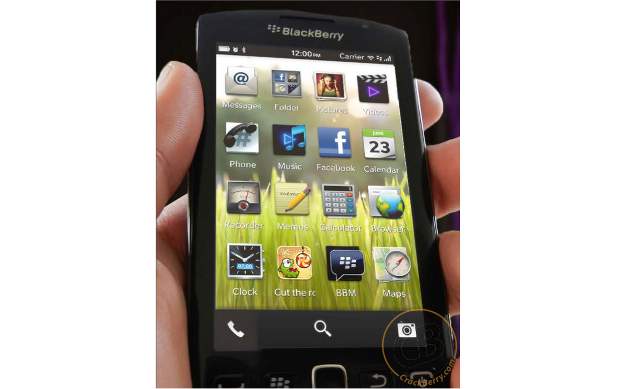 In the Application drawer, RIM is looking to use square icons and also integrate the option of creating folders to stock up the applications. There's a bar at the bottom with three icons – Phone, Search (magnifying glass) and camera icon.
Most interesting feature of all is the home screen widgets that would be usable with full touchscreen BlackBerry devices such as BlackBerry 9380 and 9860.
RIM is expected to introduce the BlackBerry 10 operating system based smartphones later this year. It would be interesting to see whether the BlackBerry 10 OS plays 'catching up' game with features already offered in rival operating systems (iOS, Android and WP7.5) or will bring something new to the market.