The worldwide mobile phone market grew 11.3 per cent in October-December 2009. According to IDC's worldwide mobile phone tracker, vendors shipped 325 million units in the fourth quarter of 2009 compared to 292 million units during the same period in 2008. Vendors shipped a total of 1.13 billion units on a cumulative worldwide basis in 2009, down 5.2 per cent from the 1.19 billion units shipped in 2008.
"The mobile phone market has rebounded in dramatic fashion. The Asia-Pacific region and the United States of America were primarily responsible for pushing the market back into growth territory. Overall, vendors offered a wide array of converged mobile devices (smartphones) and Messaging devices in the seasonally strong fourth quarter, to take advantage of increased user demand," said Kevin Restivo, senior research analyst with IDC's mobile phone tracker, in a statement.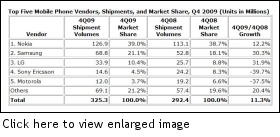 "Consumer tastes for mobile phones have increasingly shifted from simple voice telephony to greater data usage, and both handset vendors and carriers have been eager to meet demand despite ongoing economic challenges. IDC believes that the converged mobile device market grew nearly 30 per cent year over year, and that the market will continue to gain momentum as device selection increases and price decreases continue into 2010 and beyond," added Ramon Llamas, senior research analyst with IDC's Mobile Devices Technology and Trends team.
Overall the market outlook by IDC suggests that the worldwide mobile phone market will rebound in 2010. Segmenting the regional analysis, the report reveals that in Asia-Pacific (excluding Japan), 2009 as a whole was relatively flat year on year, marked by a stronger preference for low-cost handsets in China and India as users substituted away from more expensive options. However, the Asia-Pacific market saw strong gains in the fourth quarter of 2009, reflecting a strong start to recovery. Touchscreen-enabled devices remained a hot segment of the market, helping to drive the demand for converged mobile devices across the region.
The top five mobile phone vendors by the end of fourth according to IDC included Nokia, Samsung, LG and Motorola. Motorala showed a mixed growth in this quarter while Sony Ericsson posted its sixth consecutive quarterly loss this month.