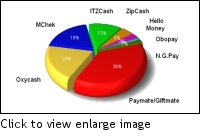 With a mobile phone subscriber base of 500 million, which is expected to reach 700 million by 2012 according to the Department of Telecommunications ( DoT), the country can easily expect mobile commerce or m-commerce to take off faster than online or e-commerce.
The mobile payment scenario in India usually works like this – an operator, a payment service provider and a bank get together to facilitate the service using SMS or internet-enabled mobile phones. The users need to register with the m-commerce service providers to do mobile transactions. This payment system enables users to purchase air, rail and movie tickets, do retail transactions and money transfers as well as pay utility bills.
Banking on mobile
Banks have realised the importance of this medium and are now open to tie ups with operators and service providers to offer mobile banking services. Moreover, lack of proper banking infrastructure combined with low penetration of computers and Broadband is expected to give a fillip to payments via mobile.
ICICI Bank Ltd, India's largest private sector bank, is offering all its services via mobile banking since January 2008. Almost all banks today, whether private or state-owned, offer some form of mobile banking to customers. While not all enable actual money transfer to take place on mobile, most offer SMS alerts and updates to their customers.
A recently released study by The Nielsen Company and Paymate taking a base of 434 m-commerce users shows that most respondents registered with their respective m-commerce service provider within the last one year. Customers also gained confidence after the Reserve Bank of India issued guidelines on mobile payments in October 2008.
Early movers
Mumbai-based PayMate was the first to launch a mobile payment service in India. PayMate allows users to register using an existing bank account, credit card or a prepaid voucher to make secure payments. After registration on Paymate, every user is provided with a PIN code, which is used to verify the transactions done by the user.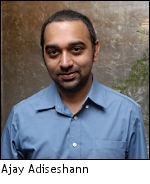 According to Ajay Adiseshann, founder and managing director, PayMate, mobile banking in India has seen a 94 per cent growth since 2002 and currently there are about 5 million m-commerce users in the country. He also says that the industry estimates put the number of users at 25 million by 2012, and 100 million in the next five years.
Adiseshann adds, "Considering the vast popularity of mobile phones and the fact that services are no more restricted to only the banking population, the industry will surpass all expectations in the years to come." At present PayMate has about one million users across India.
PayMate charges merchants a transaction fee on the total value of the transaction. Also, a fixed fee is charged in certain cases where leads are acquired through the mobile interface. Essentially, revenues are supported by charging a percentage commission on every transaction that is processed through the mobile payment gateway.
As per USA-based analyst firm Research And Markets, the Indian microfinance sector is expected to grow to nearly ten times by 2011 to a size of about Rs 25,000 crore from the current market size of Rs 2700 crore, at a compounded annual growth rate of 76 per cent. Microfinancing means the provision of financial services to low income consumers, who do not have access to banking credit.
Another m-commerce service provider, USA-based Obopay, foresees mobile banking and payments being used as a catalyst to spread microfinance and financial inclusion in India.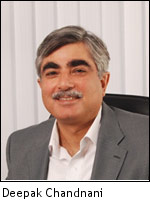 Deepak Chandnani, president, Asia and Africa, Obopay, says, "In India, mobile penetration is increasing at a very high rate whereas banking is not increasing at the same rate. More than 40% of Indians are unbanked and many are under-banked. We thought India is the perfect market for mobile payments where we can marry banking and rapid proliferation of mobile phones."
The company has recently partnered with Yes Bank in India and has also tied up with Nokia globally to launch Nokia Money. Chandani adds, "We are currently in talks with various telecom companies and banks. Currently all large banks in India are offering mobile banking services. Information and alert based services are the most popular services currently. It is expected that this will graduate to mobile money transfer and mobile payments in the coming years."
Some other key players in the m-commerce sector include mChek, Atom Technologies, NGPay, Eko and Jigrahak.
Services on the go
Several companies in the service sector are also taking to this medium pretty aggressively. PVR Cinemas, one of India's largest cinema chains, had launched a mobile ticketing application early this year, which can be downloaded by any user with a internet-enabled handset. This application is available to all mobile phone users irrespective of the operator. A movie ticket booking website, Bookmyshow.com, also offers a mobile application to users wishing to buy movie tickets via mobile.
Similarly, Makemytrip.com, a travel portal, also has a sound m-commerce product. The portal offers instant search, bookings, payments and ticket delivery through a mobile application anywhere and anytime without any extra charges.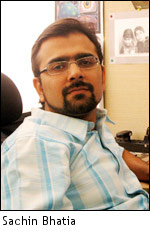 Sachin Bhatia, co founder, Makemytrip, tells Telecom Yatra, "We entered the mobile commerce space about two and half years ago as we firmly believe that the mobile penetration, reach and convenience cannot be matched by any other channel. M-commerce breaks distance barriers and enables us to reach rural consumers easily and provide quality services. The belief that security and risk control factors of transactions is high has also made users trust mobile based transactions."
The portal has partnered with telecom service providers such as Airtel, Aircel, Vodafone and Tata Teleservices to offer the mobile application to its users. It is offering m-commerce services in partnership with NGPay, Atom, mChek, mobisoc and Paymate along with an 'open to all' service, which can be accessed from any network by the user.
Bhatia adds, "We now get a daily average of 15,000 user hits and 200 domestic flight bookings through our m-commerce services and expect a heavy increase in trials and transactions with our bus, cab and train ticketing going live on our applications soon."
IRCTC (Indian Railway Catering and Tourism Corporation), which sells railway tickets online, also has a mobile application that works on mobile internet. It was launched in April 2007 and allows users to book tickets, check their PNR status and see train schedules.
Internationally, giants such as Amazon, Mastercard and Alcatel Lucent, have also launched mobile payments service recently. As the utility of the mobile phone increases with its subscriber base, financial transactions on mobile will certainly become very significant for users.