Luxury mobile phone brand Mobiado, in partnership with Aston Martin Lagonda, has announced its first Grand 350 Aston Martin mobile phone. This phone is one of the first officially certified devices to carry the brand name of Aston Martin. And, it's not just the name but also the materials used in the manufacturing of this device that make it an exclusive limited edition phone.
The Grand 350 Aston Martin's body is made of aircraft graded aluminum that is anodized to produce an elegant hard surface, making it difficult to handle everyday use while keeping its looks intact. The frame is then inlayed with sapphire crystal. The screws are stainless steel or gun metal black stainless steel depending on the users' colour preference. The buttons of the Grand 350 Aston Martin are made with a combination of sapphire crystal and stainless steel. The phone is available in three designer styles: black, black satin, and silver.
The designer nature of the phone does not imply a lag in terms of hardware specifications. The Grand 350 Aston Martin mobile phone is a quad band 3.5 G standard mobile phone that can work with almost all networks across the globe and features other wireless connectivity options like WiFi as well. For data transfer this device features both Bluetooth and micro USB connectivity.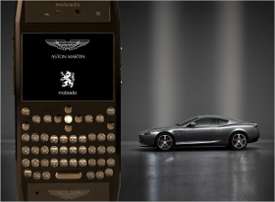 It is equipped with a 3.2 megapixel camera, integrated GPS, a 2.36 inch display with up to 16 million colours protected with a 271 carat sapphire crystal, and as well as a music and video player with a 2.5 mm audio connector.
Although the company has not announced a price for this device, it will be available in markets including India by the end of this year. Since, however, there are two exclusive names coming together in the making of this device it is expected to be expensive.
Interested users can ask Mobiado for more information about this device at contact@mobiado.com.