Microsoft has announced that it has partnered with CBSE to deliver CBSE Class 10 and Class 12 results directly onto your phone without needing to connect to the Internet. Users will have to pre-register on Microsoft's SMS Organizer app on Android to get CBSE Class 10 or Class 12 exam results as soon as they're announced.
This is the result of Microsoft's three-year partnership with CBSE through which it has delivered exam results through Bing.com and SMS Organizer in the past. With board exam results approaching again, the company is now making 'result cards' available on SMS Organizer again.
In order to access the feature:
1. You need to download Microsoft's SMS Organizer through the Google Play Store on your Android phone.
2. Log in to the app with your primary phone number and set it as the default SMS app.
3. You'll be greeted with a notification at the top about the upcoming CBSE Board results, tapping on which you can pre-register to get results.
4. Enter the required details – roll number, school code, and date of birth to complete the registration process.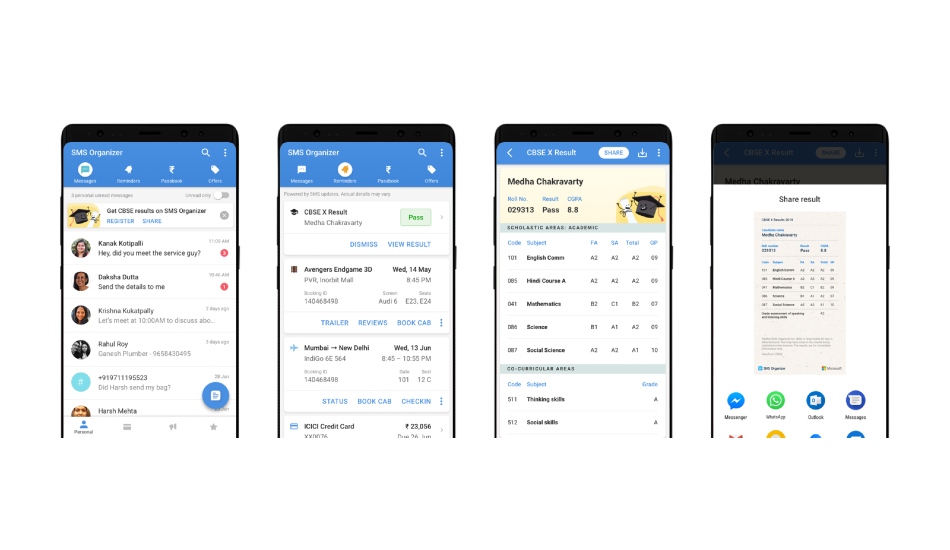 5. At the time of result declaration, you'll receive all the score and relevant details through a scorecard, even when you're not connected to the internet.
Among the new features built onto the SMS Organizer scorecard, users will now be able to share the results with others through social media apps and other messaging clients. SMS Organizer also offers spam filters, smart categorization, live train schedules, offers, reminders, speech-to-text compatibility and smart backup.