Contrary to the TeleAnalysis report which suggested otherwise, Micromax Co-founder – Rahul Sharma – hinted that its sub-brand 'Yu' is not dead. Yesterday, he retweeted a tweet from YU's official twitter handle saying – "YU got to do what is great! #NextisBlack". The tweet from YU's official twitter handle hints a new black variant of YU Yureka.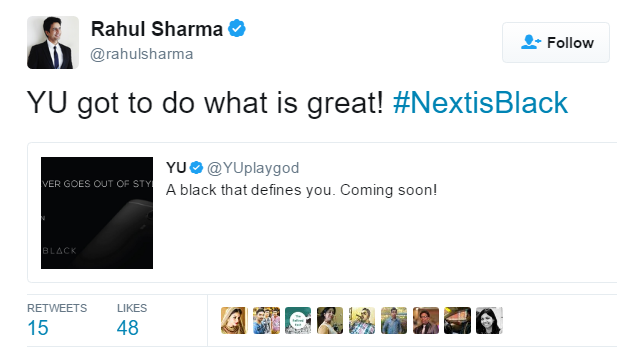 However, the tweet from the Micromax Co-founder didn't receive the kind of response he would have wanted. To start with, not a lot of people responded indicating a sheer lack of excitement. Further, Twitteratti soon responded with rather harsh replies throwing out their experiences which were full of complaints about Micromax's Yu brand.
Here are some of them –

The problem clearly seems to be with the updates. If you are not aware, Micromax's YU smartphones ran on CyanogenMod which has been long dead now and there has been no word from the company if these phones will ever get an update. However, the problem is not limited to updates, it seems as some customers tweeted:-


And it is not limited to smartphones as well.

Ever sinceMicromax launched its sub-brand YU in 2014, the brand kind of took a back seat when it came to resolving customer's issues especially related to updates. Interestingly, the issues are not limited to the YU brand only. Just recently after launching its impressive looking Micromax Dual 5, reports started to hover over the internet saying that the device hasn't been made from scratch by the Micromax as claimed earlier at a closed-door briefing. Moreover,When The Mobile Indian had probed the issue we came top know,it is a reworked (slightly) and rebranded version of the Qiku 360 Q5 which has not been launched in India.
On the other hand, sources at China's Qiku, who didn't want to be named, had said to us That Micromax Dual 5 is indeed a rebranded version of their 360 Q5 and as Qiku didn't have any plans of launching 360 Q5 in India and when Micromax showed interest in the device they were more than willing to offer it to them.