In a move to offer a simple way to have Wifi networks always and everywhere at the touch of a button, Indian handset player Micromax will launch a 3G pocket wireless (Wifi) router, MMX 400R, this week.
Sources familiar with the development in Micromax said to 'The Mobile Indian', "The Wifi router will be launched in the first week of May and will be available at all Micromax outlets for Rs 4,999."
Micromax MMX 400R can be connected to the internet via a SIM card activated with data services. It converts the data signal connection to Wifi, thus creating a Wifi hotspot, and provides a signal with a downloading speed up to 7.2 Mbps within a radius of 5-10 metres.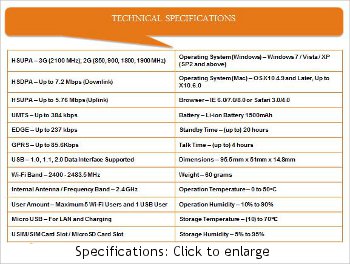 Using the Micromax Wifi router people can connect to a maximum of five Wifi enabled devices including phones, laptops and personal computers. Besides, this device in not locked to any particular service provider, which means you can use a SIM from a GSM service provider of your choice.
Some time back even Vodafone had launched a similar device that acts as a Wifi hotspot and lets up to five people connect to it for accessing the internet. The device was priced at Rs 5,500 but was bundled with a Vodafone connection. On 2G, through an Edge network, it provides a downloading speed of up to 256 Kbps.
Tata Photon too has a similar device which offers 3.1 Mbps and is priced at Rs 6,500. Also, if you have a phone, such as Motorola Milestone, HTC Desire, LG Optimus and Apple iPhone, which is running on Android 2.2 you can turn your device into a portable Wi-Fi hotspot.
As a result, your phone can be used to provide Internet access to your laptops and gaming consoles, just like a wireless connection you might find in your home or at a cafe.