It seems that Micromax is launching Android products almost every day now. The company is all set to launch the cheapest Android phone of India tomorrow. Named as Android Smarty A25, the phone will come with a decent 1 GHz processor, though with only 256 MB RAM.
The Dual SIM phone is based on Android 2.3.6 operating system and comes with a 2.8 inch capacitive touch screen. The price has not yet been announced but we expect it to be priced at Rs 3,500 level. We won't be surprised if the price is even lower, given the way Ninja 3.0 and Ninja 4.0 have been priced at around Rs 6,000 despite their higher specification.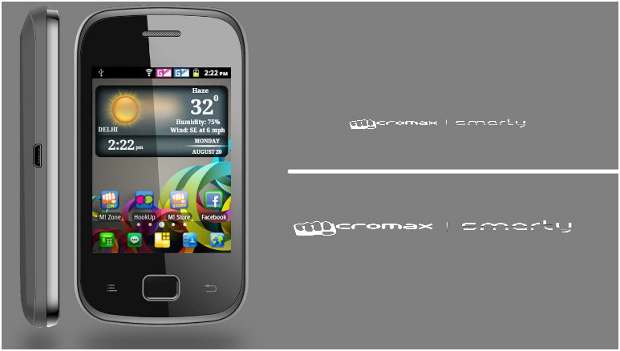 However, to make it the cheapest, Micromax has sacrificed a lot of feature including 3G, proximity sensor, and GPS. However for the price, the phone still has a lot to offer including a very fast 1 Ghz processor, WiFi, Bluetooth, GPRS etc and this makes it a perfect smartphone for one to move from the feature phone segment.
Micromax Smarty A18 will also come with a 1.3 megapixel camera, 1280mAH battery with claimed talktime of 4 hours and 180 hours backup time which seems to be a very reasonable claim.
Given the small screen, the 1 Ghz processor even though coupled with a 256 MB RAM should offer very snappy performance and will even offer navigation thanks to Google maps ability to work through the cell site information.
The phone will be available from tomorrow in stores including Saholic, the online retailer.