Most of the smartphone users always have one common complaint about their device, battery backup. The situation gets worse, when their smartphone's battery conks off and locating a power source to recharge the phone is not feasible.


In such a scenario, a backup phone may be quite handy. The recently launched Micromax Joy series of feature phones – Joy X1800 and Joy X1850, aim to do just that and that too without pinching your pocket. Here we present to all the information related Joy series of phones.
Price
The Micromax Joy X1800 and Micromax Joy X1850 are priced at Rs 699 and Rs 749 respectively.
Packaging and availability
Micromax Joy X1800 and Micromax Joy X1850 come in a pouch packaging. There packaging looks like that of take away packages of food joints. They are expected to be available in retail stores from next weeks and as of now there is no information about their online availability.
Inside the pouch
In the pouch packaging of Micromax Joy X1800 and Micromax Joy X1850 one will get the handset, USB cable, charger, user guide, battery and handsfree. Both the phones carry six months warranty.
Micromax Joy X1800 – Rs 699
The Micromax Joy 1800 has a 1.77 inch TFT display, with a resolution of 128 x 160 pixels (QQVGA). The internal memory of the Joy 1800 is 35 Kb which can be expanded to 4GB via micoSD card. The phone store 100 SMSes and 300 contacts in the phone book.
The Joy X1800 supports mp3, wav and acc formats for music, and 3GP and mp4 for video files. It comes with a torch and a FM radio. There is a 0.08 megapixel camera on the phone, and it happens to be a Bluetooth enabled dual-SIM phone, but lacks internet connectivity. The Joy 1800 has a 750 mAh battery that can provide up to three hours of talk time or 235 hours of standby.
Micromax Joy X1850
The Micromax Joy X1850 also has the same 1.77 inch screen that the Joy 1800. The internal memory of the Joy X1850 is 35K and its internal memory can also be expanded to 4Gb via a microSd Card.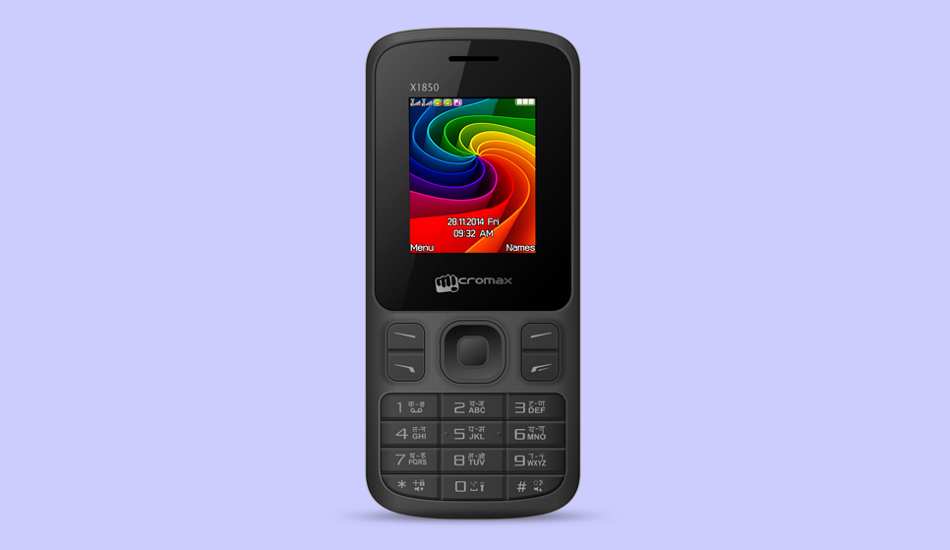 Also, the other capabilities related to music and video file formats support, SMS and contact storage, camera, dual SIM and Bluetooth remain the same as Joy X1800.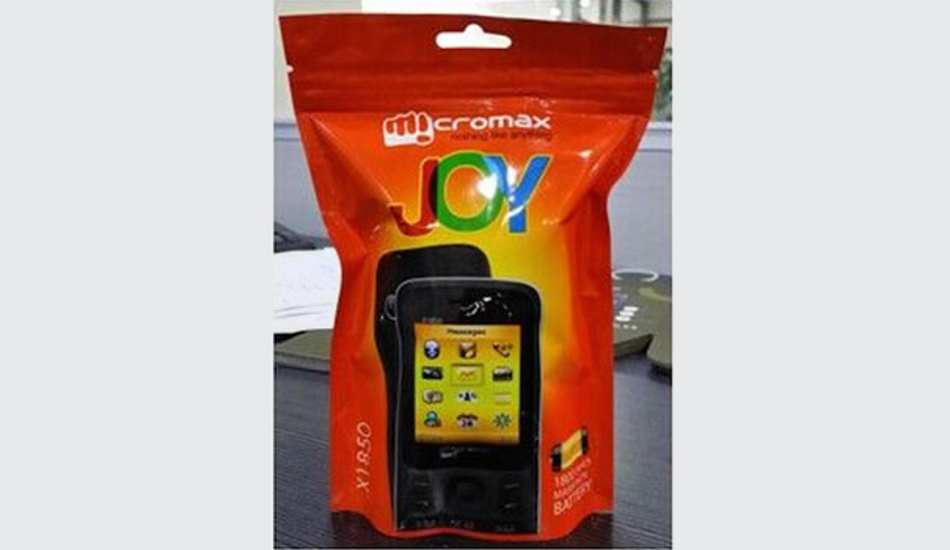 The difference between the two phones is that Joy X1850 comes with a much large 1800 mAh battery, which claims to provide up to 7.5 hours of talk time, or 642 hours of standby, meaning over 25 days of backup without charging!
Conclusion
Micromax Joy X1800 and Micromax Joy X1850 at best can be described as only backup phones because inspite of their FM radio and torch functionality they are not feature rich feature phones. The only things tasks they are expected to perform smoothly are calling and SMSing.