The Phone That Can – a series of advertisement from Micromax ran showing the Canvas II A110. True to the tagline, the 5 inch phone seems to be the 'phone that can' change the fortune of Micromax in India. The phone seems to have gained wide popularity as it offers really top-class features for an unbelievable price of Rs 10,000, in fact some has also brought it for as low as Rs 9,500.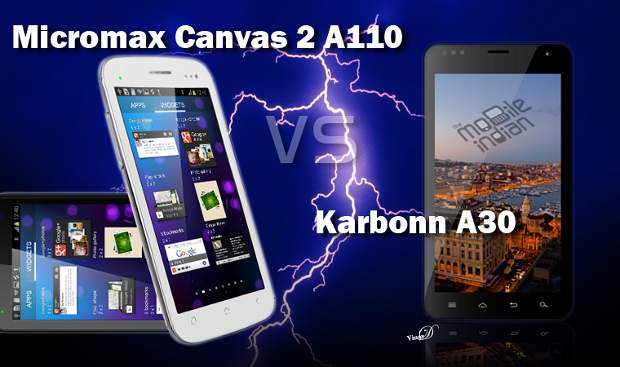 That is why we compared this handset with its main opponents like Samsung Galaxy Ace and the Karbonn A21. But we have left another handset – the Karbonn A30 – which has equally good features but is slightly costly than Canvas II.
So here is the comparison of the Karbonn A30 with the Micromax Canvas II A110.
Display
This is truly a battle of giants, literally. The Karbonn A30 is a monster as it comes with a huge 5.9 inch display against Canvas II's 5 inch screen. Both both come with identical resolution: Canvas II has 854 x 480 pixels resolution while the A30 has 480 x 800 pixels resolution. This means that picture quality will less sharper on Karbonn A30. Also, Canvas II has IPS display and hence provide better viewing angles.
Camera
Both Canvas II and Karbonn A30 comes with 8 megapixel rear camera. But A30 has a better 1.3 megapixel front camera against Canvas II's 0.3 megapixel. But the Micromax has dual LED flash in the back against single LED flash of the Karbonn smartphone.
Storage
The Karbonn A30 here also dominates over the Canvas II with its 4 GB internal memory and 32 GB of expandable memory. The Canvas II has only 2 GB of internal memory and maximum expandable storage slot of 32 GB.
Performance
Both the handsets come with dual core processors of 1 GHz clock speed, 512 MB RAM as well as Android Ice Cream Sandwich operating system. Also, none of the two is expected to get the Jelly Bean operating system in future, considering the past records of the respective companies which are yet to release any OS upgrade for their old handsets.
Battery
Karbonn has fitted a big 2500 mAh battery in the A30 to run this massive smartphone. According to the company, with full charge, the handset can run for 10 hours continuously on 2G network or four hours on 3G network. It has a standby time of 600 hours on 2G network.
These figures look very good in comparison to the Canvas II which has a 2000 mAh battery. According to Micromax, with full charge, the Canvas II can stand for 180 hours or can run for just a mere five hours on 2G network.
Conclusion
If you believe in the saying – the bigger, the better – then go for Karbonn A30 as it has almost equal and in some cases better features than the Micromax Canvas II. But if you want to save couple of backs, then Micromax Canvas II is the right choice as it is already selling for as low as Rs 9,500 while the Karbonn A30 costs around Rs 1,000 more.
The positives of Karbonn A30 are its higher internal memory, bigger battery, bigger screen and a better front camera than Canvas II. The Micromax handset, on the other hand, has a better screen and lower price than A30.