In the last few months, handset marketers have been launching touchscreen phones on a regular basis in India; the impact of this phenomenon is now being reflected in The Handset Hotlist survey (October 2011). Seventeen of the 25 phones that made it to the list are touchscreen devices.
The Handset Hotlist, based on a survey of online preferences, is brought out by The Mobile Indian (www.themobileindian.com), and is released every month. The list is based on the surfing patterns of about seven lakh unique visitors who visited the site in September, 2011, and searched for and viewed information about mobiles on the website's Handset Guide, which lists more than 1,400 models.
Sreekant Khandekar, director, The Mobile Indian, says, "Since the Hotlist was first released, handsets from Nokia and Samsung have dominated the list. However, this time around, three models from Micromax and Sony Ericsson have made it to the list."
According to The Handset Hotlist for October 2011, eleven of the 25 most exciting mobile handset models are from Nokia. Samsung follows next with six, while Micromax and Sony Ericsson have four models each on the list.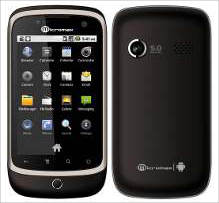 Nokia C2-03, a basic phone with S40 operating system that costs Rs 4,500 was the most-searched mobile phone on The Mobile Indian, replacing Nokia C5-03, which held the top position for the last three months.
Micromax A70, which has consistently been the most searched-for model among Indian brands and has figured in the list for the last four months, is now placed at No. 3, the highest position for the A70 so far.
Samsung-Star-II-Duos-C6712, a feature phone with 3.2 megapixel camera, stood at No. 4, followed by its stable mate, Samsung-Galaxy-Ace-S5830, an Android smartphone with 5 megapixel camera.
Top 10 Indian Challengers
The Top 10 Indian Challengers for October saw a huge change as seven new handsets made it to the list for the first time, with Micromax dominating the list with seven handsets.
The Challengers list was introduced in August, and has a ranking of the 10 most exciting handsets from Indian marketers, based on the preferences of visitors to the handset guide section of The Mobile Indian.
Commenting on the Challengers list, Khandekar says, "In the Challengers list, touchscreens are the flavour of the month as eight out of 10 handsets that consumers searched for were touchscreen mobiles, with an average screen size of about three inches."
Micromax bags the top five spots in the Challengers list, with its A70, X560, X222, Q80 and Van-Gogh-X450. The other handsets that feature in the list are Spice-Mobiles-M-6700-Cappuccino (No. 6), Karbonn-A1 (No. 7), and iBall-Aura-V36 (No. 10).
Table 1: Top 25 Handset Hotlist for October 2011

Rank Sept
Rank Aug
Change
Brand
Model
Price (in Rs.)
3G
OS
1
3
2
Nokia
Nokia-C2-03
4500
No
S40
2
1
-1
Nokia
Nokia-C5-03
8600
Yes
Symbian
3
4
1
Micromax
Micromax-A70
8000
Yes
Android
4
6
2
Samsung
Samsung-Star-II-Duos-C6712
6000
No
Java
5
2
-3
Samsung
Samsung-Galaxy-Ace-S5830
14700
Yes
Android
6
5
-1
Nokia
Nokia-C6
12200
Yes
Symbian
7
18
11
Sony Ericsson
Sony-Ericsson-txt-pro
7469
No
Java
8
9
1
Micromax
Micromax-X560
5350
No
Java
9
12
3
Sony Ericsson
Sony-Ericsson-W8
12000
Yes
Android
10
13
3
Nokia
Nokia-X7
18000
Yes
Symbian
11
10
-1
Samsung
Samsung-Galaxy-Pro-B7510
10100
Yes
Android
12
14
2
Samsung
Samsung-S3850-Corby-II
5600
No
Java
13
11
-2
Nokia
Nokia-C2-01
3800
Yes
Java
14
–
new
Nokia
Nokia-701
19000
Yes
Symbian
15
17
2
Nokia
Nokia-C5-00
7500
Yes
Symbian
16
–
new
Micromax
Micromax-X222
2500
No
Java
17
–
new
Sony Ericsson
Sony-Ericsson-Xperia-Mini-Pro
15400
Yes
Android
18
16
-2
Nokia
Nokia-X2-01
3500
No
Java
19
–
new
Micromax
Micromax-Q80
5000
Yes
Java
20
–
new
Nokia
Nokia-E52
9909
Yes
Symbian
21
–
new
Samsung
Samsung-Chat-527
5300
Yes
Java
22
–
new
Nokia
Nokia-C6-01
13600
Yes
Symbian
23
–
new
Nokia
Nokia-X1-01
1800
No
S40
24
25
1
Sony Ericsson
Sony-Ericsson-Yendo
5200
No
Java
25
–
new
Samsung
Samsung-Galaxy-Fit-S5670
10000
Yes
Android
Table 2: Top 10 Indian challengers for October 2011

Rank Sept
Rank Aug
Change
Brand
Model
Price
3G
OS
1
1
0
Micromax
Micromax-A70
8000
Yes
Android
2
2
0
Micromax
Micromax-X560
5350
No
Java
3
–
new
Micromax
Micromax-X222
2500
No
Java
4
–
new
Micromax
Micromax-Q80
5000
Yes
Java
5
4
-1
Micromax
Micromax-Van-Gogh-X450
3500
No
Java
6
–
new
Spice
Spice-Mobiles-M-6700-Cappuccino
4600
No
Java
7
–
new
Karbonn
Karbonn-A1
7000
Yes
Android
8
–
new
Micromax
Micromax-A55-Bling-2
8000
Yes
Android
9
–
new
Micromax
Micromax-EG333
8000
Yes
Java
10
–
new
iBall
iBall-Aura-V36
6000
No
Java