Till September 26 this year, India had over 85 crore mobile subscribers and most of them faced a common problem – unsolicited telemarketing calls and SMSes. It was creating havoc in the lives of mobile users as we received SMSes in the middle of the night or telemarketing calls during important meetings.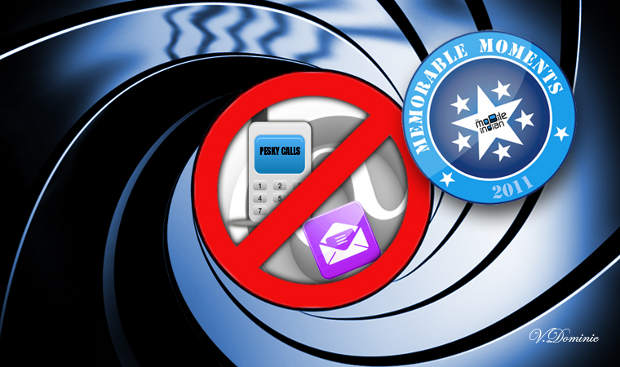 But on September 27, after much dilly-dallying, Indian telecom operators finally decided to put up a system to curb pesky calls and text massages. The Telecom Regulatory Authority of India (TRAI) proposed the system and the Department of Telecommunication came up with the regulation to implement it.
TRAI's system, Unsolicited Commercial Communications, to curb the menace of unsolicited calls and SMSes, was initially proposed in February. Background work for it had started in 2010 but since telecom operators in India were not able to put in place a system to address the issue by then, the whole process got delayed.
The new regulations mandate two databases: National Customer Preference Registry (NCPR), earlier known as the 'Do Not Call Registry', and a 'Do Call' registry – with seven preference categories for choosy customers who would like to receive only select calls and SMSes. The new system will automatically include people who have already registered with the Do Not Call registry, and a filtering feature in it will block unsolicited massages/calls from reaching registered customers.
A new numbering prefix for telemarketers was also proposed in the regulation, which would allow people to know if it is a marketing call just by looking at the incoming number. The scheme has just recently been implemented. So from now on calls from telemarketers will have '140' prefixed.
Apart from that, TRAI also asked mobile operators to limit the number of SMSes to 200 per day, which was initially set at 100 per day for each subscriber. This was aimed at reducing the number of spam massages sent by unauthorised telemarketers.
How to register for Do Not Call/Disturb
To get started, subscribers need to register themselves with the National Customer 909. Alternatively, subscribers can also send an SMS saying 'START DND' to 1909 or log on to website 'www.nccptrai.gov.in' to register themselves and follow the instructions given.
Also, those subscribers who wish to receive all those commercial SMSes and calls can SMS 'STOP DND' to 1909.
The service also has two options to choose from &#151 'Fully Blocked' or 'Partially Blocked'. The first option puts a blanket ban on any commercial SMSes or calls. In the second, you can receive a few SMSes like your important bank updates or traffic alerts . The Partially Blocked category has identified eight options &#151 banking and financial products, real estate, education, health, consumer goods, automobiles, communication and entertainment, tourism and leisure &#151 for users to choose from. If you register for the first option you will not receive any commercial communication.
After you complete the registration process the mobile service provider will send you a confirmation SMS with a unique registration number. You are required to save that number for future reference.
How to file a complaint
There are two requirements to be met if you want to file a complaint. The complaint needs to be registered within three days (72 hours) from the time that unsolicited SMSes/calls are received. Secondly, the complaint must be filed using the number on which the unsolicited SMS/call was received.
Complaints against a spamming telemarketer can be registered by calling the toll free number 1909 or by sending an SMS to 1909. Those who wish to register a complaint through SMS should send: COMP TELNOXXXXXXXXXX date/month/year
TimeHour: Min
Here XXXXXXXXXX stands for the number from which the SMS was received or the header of the SMS. Alternatively, you can call 1909 and either go through the IVRS system or talk with a customer care executive for registering your complaint. On successfully registering a complaint the registrant will receive an SMS with a unique complaint number.
At any point of time, if you want to de-register or change your options then too you can call 1909 and follow the necessary procedure.
Do note that telemarketers aren't eligible to market their products between 9:00 PM to 9:00 AM. Any telemarketer violating these terms can be de-registered based on the complaint of a mobile consumer.
Penalty clause
Telemarketers making unsolicited call or sending text messages to consumers registered for not receiving any unsolicited communication are fined Rs 25,000 for the first violation, which goes up to Rs 2.5 lakh for the sixth violation along with blacklisting for two years. The monetary punishment is much harsher compared to a fine of Rs 500 per violation that was imposed earlier on telemarketers.
Telemarketers would have to 'scrub' or sift through data banks customers registered with do-call and do-not-call registry's to ensure they are calling or sending text messages to the right customers. TRAI will also monitor this system, an official said.
Cellular Operators Association of India, a body representing GSM operators, said the new regulations attributed more responsibility to the service provider.
Journey so far
After the regulation came into effect, Vodafone penalised telemarketing companies for making unsolicited calls to its subscribers, and deposited Rs 50,000 with the TRAI as fine.
According to TRAI, till September, 1,122 subscribers have been issued notices on making unsolicited call and sending SMSes while 111 subscribers out of them have been disconnected. In case of telemarketers, 17 of them have been penalised.
Impact
Ban on unsolicited telephone calls and SMSes has still a long way to go before it becomes a success story. After a lull of a few days, telemarketers are back with unsolicited calls and messages though there was a drastic drop in the numbers of calls and SMSes.
Currently, DOT and TRAI are unable to track the companies or individuals who send unsolicited messages through the internet from servers outside India. Even the government has acknowledged this fact.
Nevertheless, DoT and TRAI's effort to bring out a regulation to address this menace needs to be appreciated, but they must not forget that this is just the start of the journey; not the final destination.